The 8 Habits Challenge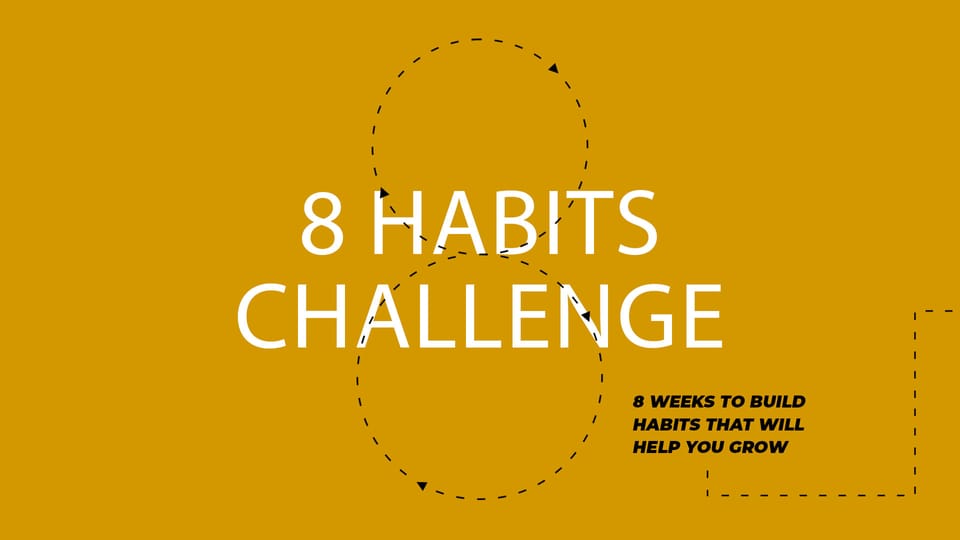 This week marks the start of Lent. I'd like to invite you to join me in building habits that will help you grow over the next eight weeks as we approach Easter by joining the 8 Habits Challenge.
Basically, I'd like to walk with you through the eight habits in my book Eight Habits for Growth:
Make time
Rest and refresh
Engage the Bible
Speak with God
Worship and belong
Care for your body
Simplify and prioritize
Go the distance
Each week of the eight weeks, you'll practice one habit. I'll provide video lessons and other resources. I'll also provide you with an online community, which we'll use for mutual support and group coaching. It's part of my ministry called Gospel for Life. The challenge will start next Monday.
The goal is that you will build these eight habits, not just for the eight weeks of the challenge but for life. The last habit will help you customize them for your unique personality and circumstances so they're sustainable for the long haul.
I'm excited about this challenge. We could all use some help in mastering the basics. We don't need new trends or fads. We need to keep focusing on the few things that really matter and build them into our lives.
The goal isn't really the habits. They're a means to the ultimate goal. The goal is God. The habits are simply ways of repeatedly pursuing God with all of our lives, engaging in actions that draw us close to him.
The cost is $20, but I also recommend that you pick up a copy of my book through your favorite bookseller.
If you're interested, you can also add my Helping Others Grow course to this challenge for a discounted price. This course is meant to help you disciple other believers.
I plan on running this Eight Habits Challenge only once a year, so please jump on this if you're interested. Register by following this link, or contact me if you have any questions.
I'm praying that God uses these eight weeks to help us build habits that will help put us on the path of his grace and grow.
I hope to see you inside the course and community.
How to Register
Registration is now closed.
Register for a future session below:
More on 8 Habits for Growth
Don't just do the right actions. Build habits — and watch your life be transformed.
Many books try to help you do the right actions. But the real key to life transformation — for yourself and then for others — is building habits that become part of your life. Because habits don't just dictate what you do. They reflect who you are.
In 8 Habits for Growth, I show you the eight long-term practices—all very doable—that will lead to permanent growth if you incorporate them into your life.
Personal growth doesn't happen overnight. But it does happen, slowly, as you build God's habits into your life. So what are you waiting for? Start your new habits today and let God transform who you are . . . and who you can become.
It's hard to imagine a more "user-friendly" book for Christians who want to cultivate personal habits for spiritual growth!
This book is especially ideal for small groups and discussion groups to work through together. Darryl Dash has given a wonderful gift to the church with this edifying, practical, and Christ-honoring book.
Gavin Ortlund, author and pastor