Helping Others Grow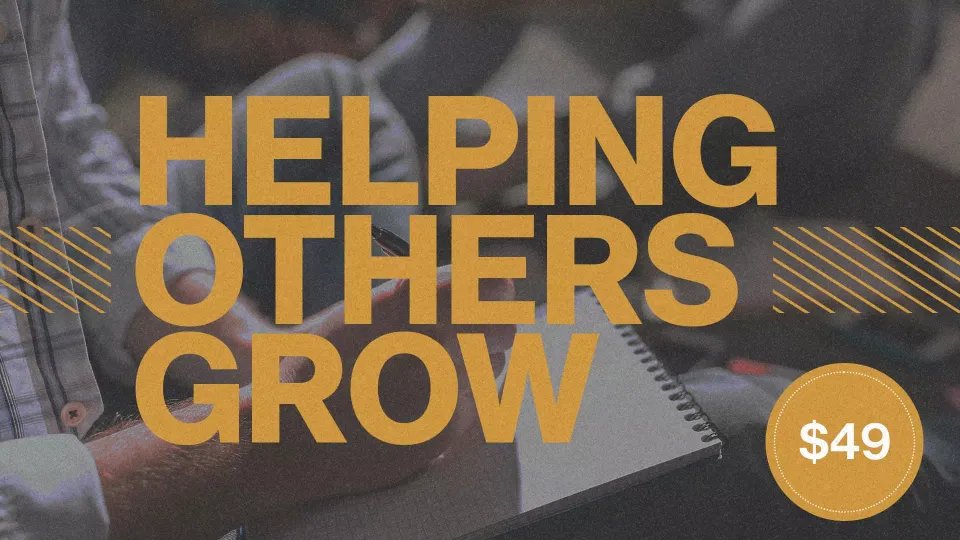 In Helping Others Grow, you'll learn how to make an eternal difference in the lives of others. Discover where to begin, what the Bible says about how people change, and the practical steps to invite others to walk with you as you walk with God. You'll learn practical coaching skills to help you walk with others and help them take the next step in following Jesus. You'll discover how the Spirit uses people like you to shape the lives of others.
Clear, practical, biblical teaching — Rooted in Scripture, applied in the context of life and ministry
Transformational — This course is not meant to inform you. It's meant to help you influence others for eternity.
Hopeful — We've designed this course to help everyday people, not just the spiritually elite.
Enroll in 'Helping Others Grow' Today
You'll receive lifetime access to the course, with lessons and videos that are richly biblical and designed for immediate application.
The goal is to help you grow spiritually and to make an eternal difference in the lives of others.
(Special pricing is also available for group use.)
REGISTER NOW
Frequently Asked Questions
Who teaches the course?
Darryl Dash, pastor of Liberty Grace Church in Toronto, and author of 8 Habits for Growth and How to Grow.
What will I get?
You'll get lifetime access to the course, featuring clear, practical, biblical teaching on helping others grow. The course features written lessons, videos, and a downloadable workbook.
How long do I have to complete the course?
As much time as you need.
Can I use this course with others?
Yes. You can buy a license to use the course for a group for a slightly higher price.
What if I'm not satisfied?