Reset: Living a Grace-Paced Life in a Burnout Culture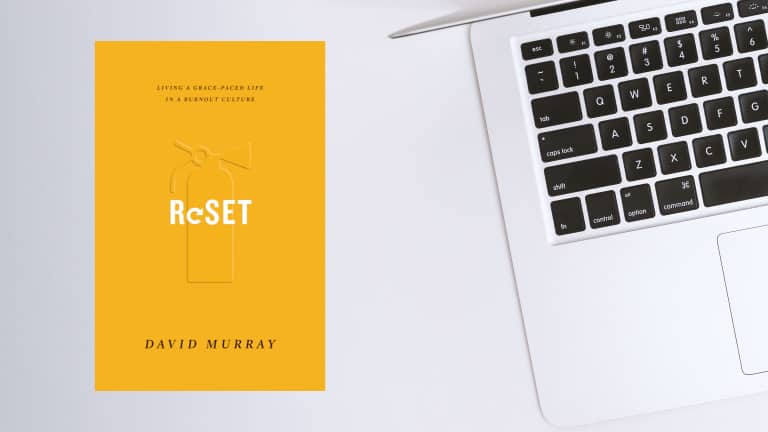 Life is busy. I don't know anyone in ministry who has more time than they need. We live in the middle of an avalanche of obligations, tasks, and appointments.
The result is that many of us aren't running strongly anymore. Our reserves are depleted, and the effects of our busyness are showing up in our relationships and in our soul. We're not in crisis, but we know that things could be better. We may even sense that we could end up in trouble if things don't change. Perhaps we can relate to the pastor who said:
My ministry had become a shell without the heart, a matter of endless duties without joy. I was standing up every Sunday telling God's people true things, good things. But they were no longer things that I lived on personally. It was my job.
David Murray wants to help. He's written Reset: Living a Grace-Paced Life in a Burnout Culture for pastors and for anyone else who wants to find their way back to health and a sustainable pace. It's written by someone who knows what it's like to be overwhelmed, and has not only developed a healthier way to live, but has helped others do the same.
Reset contains ten repair bays for the weary. Some of them go deep into our patterns of thought and belief. "Many of our problems happen not only because we do the wrong things, but also because we believe the wrong things," he writes. "Behind many seemingly practical problems are theological problems." Murray helps us rediscover grace and to identify unhelpful ways of thinking that keep us in bondage to busyness.
Grace isn't just a word in the subtitle; it's infused in the contents of the book. Just reading this book will help men to breathe in the beautiful reality of God's grace-filled love for them. Reset is worth reading for this reason alone.
But Murray doesn't end there. He gets very practical and prescribes practices that will help us become healthier. I've always appreciated Murray because he thinks holistically about what it means to be human. (Maybe it helps that he's married to a doctor.) "We are not just body and we are not just soul; we are body and soul united in one person." We therefore need to learn how to care for both our bodies and souls, recognizing our limitations and learning how to live so that we're best able to serve God and others.
A few years ago I found myself approaching burnout. With the help of a Christian counselor and some friends, and the help of a sabbatical, I was able to take steps toward greater health. I now live with the knowledge that I'm capable of mismanaging my life, and I know that I must take certain actions to stay healthy so that I can continue to serve.
Murray's book could have helped me back then. It can certainly help us now as we cope with the never-ending demands of life and ministry, and as we strive to live out of God's limitless grace rather than off our own meager reserves. Read this book. Better yet, practice its lessons and share them with others. It may be one of the most important books for pastors I've read this year.
(Murray has also written a companion book with his wife geared to women called Refresh: Embracing a Grace-Paced Life in a World of Endless Demands.)
More from Amazon.com