Preaching to a Post-Everything World
It's overwhelming sometimes.
I pastor in one of the most secular cities in North America. I face questions I couldn't have imagined when I started pastoring. My friends who pastor in other communities not far from here tell me that I may as well be on a different continent because things are so different.
Don't get me wrong. I love it. I also suspect that some of my friends will find that our secularism is coming their way. It's why we need a book like Zack Eswine's Preaching to a Post-Everything World: Crafting Biblical Sermons That Connect with Our Culture.
The Question
Eswine asks an important question: "Could I now reach who I once was?" He explains why this question is important:
Each preacher is a human being who once was a child needing to grow up, whose stories are mixtures of tragedies and triumphs. Every preacher is a human being who has given wrong answers, prayed incorrectly, misquoted the Bible, daydreamed, and longed for things that now embarrass or have hurt other people … What if differences are made by remembering where we'd be without God and then ministering to others out of that knowledge? What if preaching requires something prior to homiletics?
The rest of the book answers this question.
I love this reset. We have some similarities to those we are trying to reach. We may preach in a secular setting, but we're not as different as we think we are.
How to Preach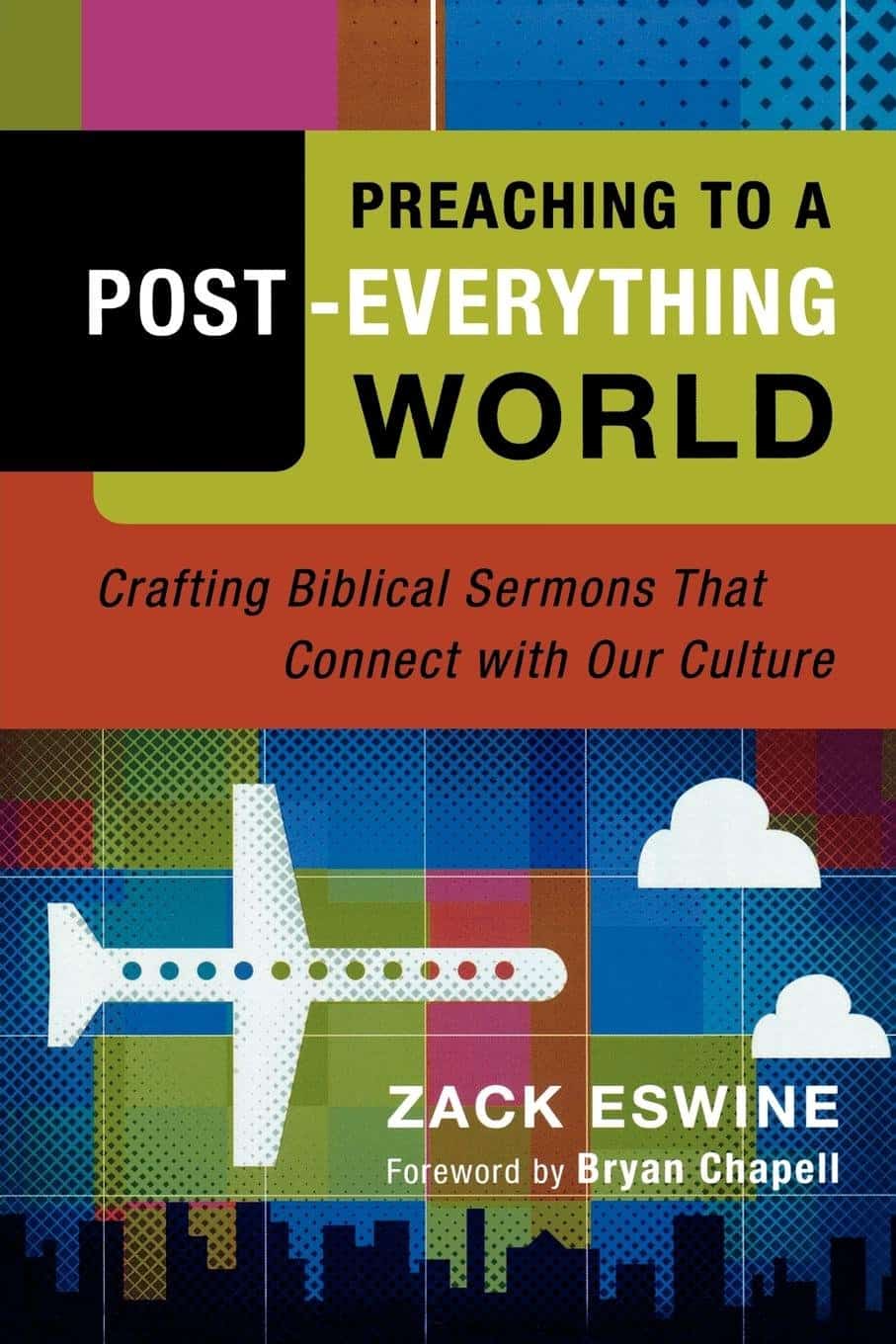 How do we preach in such a setting while remaining faithful to Scripture? Eswine answers in three sections:
Prepare the sermon for a post-everything world — relearning the basics of the sermon in light of our context
Explore biblical models for a post-everything world — examining the preaching postures we discover in Scripture, and what they could look like today
Engage the cultures of a post-everything world — handling difficult issues and relying on the power of the Spirit
Eswine covers a lot of ground. This is not a book to read quickly or one time. It's a book that deserves careful, repeated reading.
I found myself struggling at times to relate the pieces to the whole. Is this an apologetics book, a piece of cultural analysis, a homiletics book, a theological work, a biblical exposition, or a piece of pastoral theology? It's all of the above. It straddles the gap between theology and practice. This will frustrate the reader at times, but it's also what makes it such a profound book.
In case you need a summary, Eswine concludes the book with two appendices. The first provides a plan for working through four stories (or questions) each sermon must answer:
What does this text teach us about God?
What does this text teach us about people (the religious and the irreligious)?
What does this text teach us about the place (creation and cultures)?
What does this text expose about our personal response to these?
The second appendix guides us to consider how to analyze movies, news, art, and literature using these four stories.
There's enough in this book to make me want to read it again, slowly and with a pen. Don't read it for bullet points and quick tips. Read it to think deeply about how to preach well in a changing context.
Fits My World
This book has been sitting, unread, on my shelf for years. I think I was intimidated by it and couldn't fit it in any of my categories. When I bought this book I pastored in the same city, but in a very different setting from where I am now.
Now that I've moved, I can't believe how well this book fits my world. I still can't quite fit this book in any of my categories, and I still think it's a book that requires some investment if you're going to benefit from it. But I'm so glad that Eswine wrote it.
I join Eswine in this prayer:
The prayer of many of us is that God would raise up a generation of expository evangelists; preachers who understand biblical exposition in missional terms; preachers whose hearts burst with love for sinners; preachers who no longer dismiss biblical exposition when they think of engaging culture; preachers who no longer expound the Bible with disregard for the unchurched people around them.
If this prayer resonates with you, I think you'll enjoy this book too.
More from Amazon.com
if(window.strchfSettings === undefined) window.strchfSettings = {};    window.strchfSettings.stats = {url: "https://gospel-for-life.storychief.io/preaching-to-a-post-everything-world?id=841627478&type=2",title: "Preaching to a Post-Everything World",id: "d767e251-e777-4580-bbc2-19cabecad9ef"};            (function(d, s, id) {      var js, sjs = d.getElementsByTagName(s)[0];      if (d.getElementById(id)) {window.strchf.update(); return;}      js = d.createElement(s); js.id = id;      js.src = "https://d37oebn0w9ir6a.cloudfront.net/scripts/v0/strchf.js";      js.async = true;      sjs.parentNode.insertBefore(js, sjs);    }(document, 'script', 'storychief-jssdk'))