Zeal Without Burnout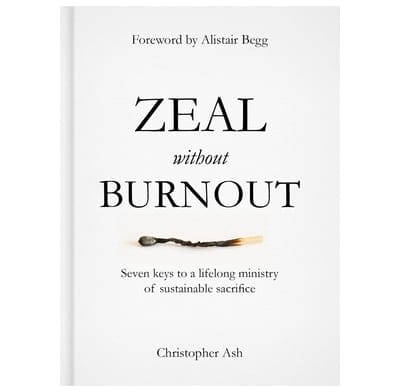 I didn't want to read this book. I was sure I didn't need it. But I did read it, and I did need it. You probably do too.
Zeal Without Burnout is written for pastors who may be facing burnout, or who are aware of the danger and want to avoid it. It's written by Christopher Ash, who found himself on the edge of burnout in ministry more than once.
It's short and simple. Ash makes the case for a life of sustainable sacrifice rather than a life of burnout. He reminds us of a neglected truth: you and I are dust. We are fragile, temporary, mortal, and frail. Ash develops four implications of this foundational truth:
We need sleep, but God does not.
We need Sabbaths, but God does not.
We need friends, but God does not.
We need inward renewal, but God does not.
The book then offers a warning against celebrity, an encouragement that our ministries are worth it, and a reminder to delight in God's grace rather than the gifts of ministry. "If joy is to motivate us to gospel work," Ash writes, "then joy must be rooted in something outside of the fruits of our work, something that can't be touched by the vagaries and frustrations of this life under the sun." Our joy must be rooted in the fact that our names are written in heaven (Luke 10:20).
The book concludes some final tips, and a short primer on burnout. Ash encourages us to pray:
If I never preach another sermon, never lead another church meeting, never give another talk, never have another one-to-one spiritual conversation with anyone, never use my gifts ever again in ministry, my name is still written in heaven. And in that I will rejoice.
I appreciated the examples and stories in the book. I like that it's short and practical. I didn't learn anything new in this book, but was reminded of things I quickly forget.
I keep talking to pastors who are pushing themselves harder than wisdom would allow. I keep falling into this trap too. It's why I finally bought this book. I need to be reminded of what I already know.
If you're in ministry, I urge you to get and read this book, and to implement its lessons, so that you can live a life of sustainable sacrifice.
More from Amazon.com | WTS Books
---