Clarity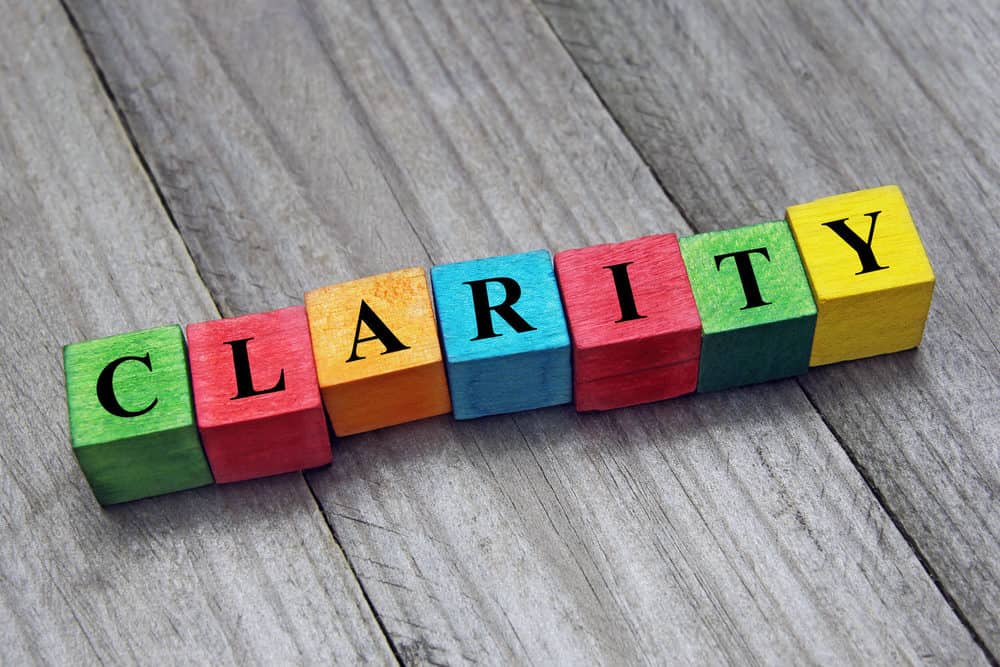 One of the greatest lessons I've learned in the past few years is about clarity. I agree with Will Mancini, self-proclaimed clarity evangelist, who says, "Clarity isn't everything, but it changes everything." I've been learning this lesson in three areas.
Ministry Clarity
When I began the process of church planting, I found myself confused. I began reading all the church planting books. Everyone had a different model, and they were all sure that theirs was right.
I remember closing the books while on a retreat. I pulled out a journal, and began to write about the church I sensed God was calling us to plant. I incorporated insights from what I'd learned, but sensed that I needed to get clear about what God was calling us to do.
Since then I've worked on developing greater clarity with our team using Will Mancini's books Church Unique and God Dreams. We have a one-page summary of our mission, values, strategy, and marks. We also have a one-page planning document that summarizes our five-year vision, three-year vision, and one-year and 90-day initiatives.
I've served in churches that lacked clarity. It cost us. Looking back, I wish we had forced ourselves to wrestle through the process of gaining clarity about what God was calling us to do. Not only would it have prevented pain, but it would have helped our ministry.
Personal Clarity
I knew Will Mancini as the church clarity guy. A couple of years ago I heard Will talk about personal clarity. I attended every session that I could, and became hooked on the idea.
When I heard that Will as leading a personal vision cohort, I jumped in. The process was helpful, and I ended up with a two-page document that I have with me almost all the time. The first page outlines my mission, values, measures, strategy. The second page outlines what I'm working on using different time horizons: 3 years, 1 year, 90 days, and next week.
Here's what I wrote at the end of the process:
Over the years, I've tried many tools to help me get personal clarity. Most of them were helpful, but it always felt like I was missing something, or that the tools were too complicated to meaningfully guide my life. The Younique Personal Vision Journey is the first one that has been comprehensive enough to encompass all of my life, and simple enough to use every day. I have greater clarity than ever before about God's call on my life, and how to translate this into action.
Business Clarity
My wife and I are working on a new initiative right now. I'm excited about it, and I'll be writing more about it soon. We're working hard at getting clarity about what we are trying to do. I'm finding Business Model Generator helpful. When we're done, we will have a one-page document that outlines our business plan and clarifies what we hope to do.
I love the process of gaining clarity, so that every area of my life — ministry, personal, and business — is summarized in just a few pages. "It's simple to make things complex, but it's complex to make things simple," says Mancini. It's hard work to get to simple clarity, but it's worth it.