Evangelism: Knowledge and Openness
You may have heard of the Engel Scale, which measures the journey from no knowledge of God to spiritual maturity as a disciple of Jesus Christ.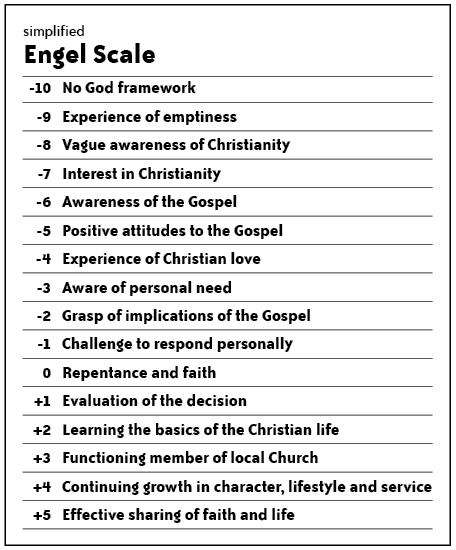 Frank Gray has modified the Engel Scale to include not only the knowledge of the Gospel (similar to the Engel Scale), but the attitude towards the gospel.
Our challenge is to look for people who are open but lack knowledge. It is also to winsomely lead people from being closed to being more open towards the gospel as they grow in their knowledge.
A lot of our evangelism and church planting supposes that many people are open and need only a small amount of knowledge. A recent book on evangelism challenges this notion:
Research suggests that when people put their faith in Christ, on average it's taken two years from the point when they came into meaningful contact with a Christian who witnessed to them — and that time period is growing. Witnessing is a long-term commitment to invest in a relationship, to pray tirelessly, and to speak the gospel over and over again, patiently and persistently. It is a journey of gospel conversations. It really does take effort. (Honest Evangelism)
Some implications:
We need to look for those who are open and need more knowledge of the gospel. I suspect that their number is shrinking, but they are still there.
We need to redefine success. Success is not just someone moving from unbelief to belief; it is also someone moving from being closed to being open, and from little knowledge of the gospel to a greater knowledge of the gospel.
While I'm sympathetic to those who think we should focus on the ripe fruit (people who are open and need only a little more knowledge), we cannot afford to ignore the growing numbers of those who have less knowledge. Nor should we ignore those who are closed.
We need to adjust our timelines. While some will respond quickly, many will not. That will affect how long it takes to see churches planted and for churches to grow through evangelism. This, in turn, will likely affect our models of ministry.