Blind Spots: Becoming a Courageous, Compassionate, and Commissioned Church
I spend next week with a group of fellow pastors from all over North America. We're all evangelical, but we have our differences, sometimes on very significant issues. It's easy to see the faults in others and to retreat to our own silos, confident in our strengths but ignorant of the weaknesses that others can clearly see in us.
That's why Blind Spots: Becoming a Courageous, Compassionate, and Commissioned Church by Collin Hansen is so important. Hansen writes about the strengths and corresponding weaknesses of three types of conservative evangelicals:
Compassionate — those who emphasize Christ's compassion for those who are hurting
Courageous —  those who love taking a clear stand and emphasizing sound doctrine
Commissioned — those who focus on evangelism and outreach to unbelievers
The differences between these groups are marked, and the tensions run deep. According to Hansen — a self-confessed member of the courageous tribe — we can't afford to remain divided. "The magnitude of our challenges today ought to dispel the illusion that any one wing of the divided church can go it alone," he writes.
How can we overcome our divisions? Hansen suggests a clear way forward: to become aware of our own blind spots, so that we will see our differences as an opportunity. "Let's start small," he suggests. "Can you love a fellow Christian who sins differently than you do?" We need all need all three types — the compassionate, courageous, and commissioned, "in full, blessed abundance— in ourselves, our local churches, and the church at large."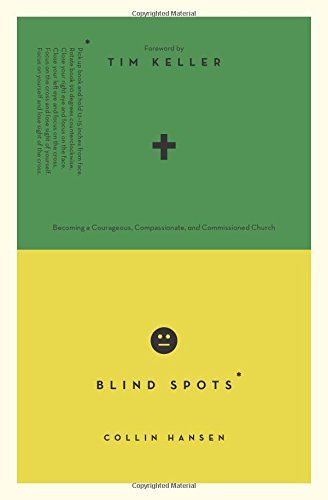 The bulk of this short book examines the Christlike traits and corresponding blind spots of each type. The compassionate can compromise; the courageous can retreat; the commissioned can assimilate over-contextualize. Each group must confess its own blind spots. Each group must recognize its need of the others.
Blind Spots is a short read, but it packs a punch. I found the division of evangelicals helpful, even though the divisions aren't as neat in reality. I appreciate Hansen's desire to work together and to escape what he calls a circular firing squad. And I applaud his prescription: that we focus on our own blind spots rather than those of the others, and that we recognize our need of the others, rather than on how much they need us.
I'm sick of silos, but I have to admit I've built my share of them. Blind Spots points the way forward to breaking out of our silos, recognizing our own weaknesses, and then partnering with others. We need courage to face the challenges of today, just as we need compassion to love our enemies, and God's commission to take the gospel to all nations. I'll remember that next week as I meet with other pastors, remember my own blind spots, and learn from those who are different than me.
More from Amazon.com | WTS Books