The Biggest Issue Planters Face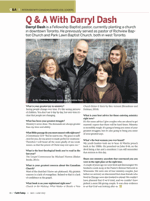 I recently had the opportunity to write a short article for The Institute of Evangelism at Wycliffe College:
What's the biggest issue that a church planter faces? Is it money, busyness, a lack of support? These are real issues. But they're not the main one.
I'm convinced that the biggest issue that church planters face is an internal one. It's our tendency to depend on ourselves rather than on God. This results in tremendous stress in the church planter's life and ministry.
Read more here.
By the way, Karen Stiller recently interviewed me for Faith Today about church planting (PDF):
What is your greatest joy in ministry?
Seeing people change over time. It's like seeing pictures of children. You don't see it day by day, but over time it's clear that people are changing.
What has been your greatest struggle?
Ministry's never done. The demands are always greater than my time and ability.