Some Good Church Planting Resources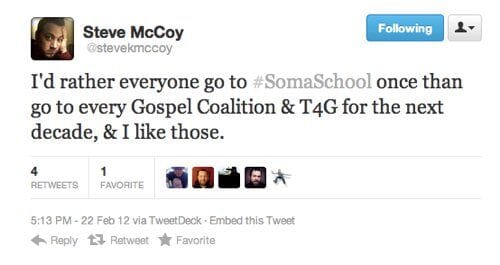 I'm a bit of a newbie when it comes to church planting. Part of my job as I move into church planting is to catch up on some of the material I've missed. I've enrolled in a bit of a self-directed course on church planting.
It's not at all like it used to be. When I started pastoring, you couldn't find much written on church planting. Now its hard to keep up.
Here are the best four or so resources I've found so far.
Steve McCoy put me on to this, and I keep hearing about them all over the place. Steve tweeted:
I hope to attend a Soma School at some point in the future. In the meantime, I've really benefited from what they've posted online. You can access the notes and audio from the most recent school for free here. They have a shortened class available on iTunes as well. I'm really encouraged by what I'm learning from them.
In an interview with Ed Stetzer, J.D. Payne explained why he wrote this book:
The purpose of this book is to provide a single, practical, work that addresses the biblical/theological foundations, several critical missiological principles, a few historical perspectives, and many contemporary issues related to church planting in the 21st century.
I really appreciated the scope of this book, as well as its emphasis on multiplication rather than addition.
I didn't like the title of this book at first. It seemed too gimmicky to me. But once I got past that, this book is very helpful. The annotated bibliography alone is worth the price of the book. Many books on multiplying church plants are focused on the house church model. This book helped me understand how multiplication can work in other models of church planting as well.
This is a nice complement to the Soma material. It focuses on churches that center on gospel and community. I read this before, but had a hard time applying it within an established church. I think I'll be returning to this book regularly.
Honorable Mentions
Other good books that come to mind are The Tangible Kingdom: Creating Incarnational Community
, Church in the Making: What Makes or Breaks a New Church Before it Starts
, and Planting Churches that Reproduce: Starting a Network of Simple Churches
. There's so much out there that it's almost overwhelming.
What about you? What are some of the top church planting books and resources that you'd recommend?
Update: First Steps for Planting a Missional Church
just arrived in the mail. It looks really good too. I should have also mentioned that the Book of Acts is an obvious and important church planting book as well.