Read the Bible for Life: An Interview with George Guthrie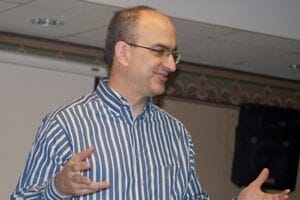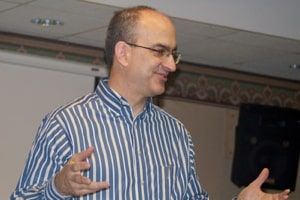 It's my privilege to interview George H. Guthrie, author of Read the Bible for Life: Your Guide to Understanding and Living God's Word
.
A lot of us are used to studying parts of the Bible, but we may not have understood how all the parts fit together. How does Read the Bible for Life help us do this?
The Read the Bible for Life church strategy really has two main emphases:
learning how to read the Bible better and
learning the Grand Story of Scripture.
The book Read the Bible for Life: Your Guide to Understanding and Living God's Word
and the companion Read the Bible for Life (DVD Leader Kit)
focus on the first of these emphases.  Two other tools, both to be released in the fall (2011), will focus on the second.
One of those tools is a chronological Bible titled, Reading God's Story: A Chronological Daily Bible
.  It has all of the text of Scripture (HCSB translation) arranged in chronological order, with introductions to each main "Act" and "Scene" of Scripture.  There are three acts:
Act I: God's Plan for All People;
Act II: God's Covenant People;
Act III: God's New Covenant People.
Each of these acts is broken down into scenes like, "Creation," "Fall," etc. in the first act, or "The People," "Deliverance," etc. in the second act.  There are 6 days of readings for each week, and it is designed to last 1 year.  However, the weeks and days are not dated, so it could be used over any length of time.
A second tool is called Reader's Guide to the Bible.  This is like a chronological reading plan (you use it with your Bible), but each day of the week has a paragraph "coaching" the reader in how to read the portion of Scripture for that day.  Here is a sample from Week 1, Day 1.  The reading for the day is Genesis 1-2:
Day 1  –  Gen. 1-2
Notice how day 1 of creation relates to day 4, day 2 to day 5, & day 3 to day 6.  Days 1, 2, & 3 tell of God's creation of "settings" to be inhabited, and days 4, 5, & 6 the "characters" that inhabit those settings.  God builds both beauty and order into his creation.  There also is a progression to creation, the process climaxing in the creation of human beings.  According to Gen. 2:2-3 God "rested" on the seventh day, blessed that day, and declared it holy.  In declaring one day of the week special, he built an order and rhythm into the weekly routine of people that goes all the way back to the creation.  Describe the order and "rhythm of rest" in your weekly patterns.  As we move into Gen. 2, the author takes one aspect of the creation account in Gen. 1–the creation of man and woman–and expands upon it.  When we read narrative, we want to remember that God is the hero of the story.  How is that so in this passage?  What does the passage say about the nature and beauty of marriage as God has designed it?
The Reader's Guide can be used with any Bible translation.  It also has a timeline broken down into the Acts and Scenes I mentioned above.  The reader actually writes in the timeline the top 100 people in the Bible as we progress through the year.  We hope that whole communities of believers will read through the story of Scripture together, using one or both of these tools.  By the end of the year everyone should have a much greater grasp on how the parts of the Bible fit together to make a wonderful, powerful Story.
Biblical illiteracy seems to be a big problem in our churches, yet it's often not seen as a problem. How can we make people aware of this issue?
Many church leaders approach "Bible Literacy" as an "elective" class.  They might offer the Read the Bible for Life video curriculum, for instance, as one of a dozen classes people can take on Wednesday nights during the summer.  Since 95% of churches currently don't have any class on how to read and/or study the Bible, this is a step in the right direction.  However, biblical literacy is not a felt need for most people in the church.  Those who need such a class most probably are not going to self-select to be involved in it.  Those who need it most will miss out.
So church leaders need to lead the church by training the people to be more biblically literate.  This will certainly involve sharing statistics, pointing the church to books to read, etc.  Yet, what many churches are doing is a whole-church campaign (think "Purpose Driven Life") to make sure everyone gets basic training in reading the Bible well.  Then the whole church reads through the Bible in the coming year, even as the pastor preaches through the highlights of the Bible's story.  That kind of approach will go a long way in beginning to address the need in a church.
What do you hope will happen as people use this resource?
My main hope is that people will meet God in a fresh way in the Scriptures.  At the end of the day, biblical literacy is not primarily about information but about orientation and transformation.  If people, by learning to read the Scripture more effectively, are hearing God speak to them through the Bible as a normal part of their lives, change is going to take place and the Kingdom will be advanced.  That's what I would love to see happen through these resources.
What has the reaction been like so far? Has anything surprised you?
Well, things are really just getting going.  I have heard back from many people who have read the book that it has transformed the way they read the Bible, for which I am very grateful.  I guess I am surprised at points that seemingly simple principles can really make a difference for people. Reviews on Amazon have been great (but if your readers have read the book and benefitted, I would appreciate them doing a review!!).  Reports back from those who are going through the video curriculum also have been quite positive.  Most of my first-hand knowledge of reactions to the materials has been in my church (Northbrook Church, Threeway, TN, USA) and from churches in our area.  Last week a guy at our church named Michael was baptized.  He came to Christ by reading through the Old Testament with a small group in our church.  That is very cool!  Another lady in our church got involved in small group for the first time during the video curriculum training in the fall, was baptized, and has just gotten back from her first mission trip.  So it thrills me that the lives of people are being changed.
It shouldn't surprise me that people are using the materials, but it does–and it humbles me.  God is good.
How can a church prepare to use this material?
On the website www.readthebibleforlife.com there is a link for the "Church Strategy" at the bottom of the page.  On the Church Strategy page there is a video in which I overview the approaches a church can take and answer lots of questions that might come up.  There also is a list of questions on that page, and each question is linked to the answer.  You can find there an overview of each tool or book and how those can fit into a strategy for a church.
Beyond the basic information, I would mention of couple of things that could help.  First, pray.  I really believe the biblical illiteracy of the church in North America is a spiritual problem.  Basically, our lack of hunger for the Word stems from our lack of hunger for God himself.  We need to see prayer as foundational to change.  Second, don't just give a wink and a nod at this problem.  Churches that think a 9-week class is going to solve their biblical illiteracy problem need to think again.  We need to take a 5-10 year look at the situation and have a long-term strategy for addressing it.  Don't just ask, "Where can we plug a class like this into our already busy programming?"  Ask, "What do we need to do over the next 5 years to help people learn different and fresh ways for engaging God's Word?"
Thanks, Dr. Guthrie.