Reminder: Good Friday Service in Toronto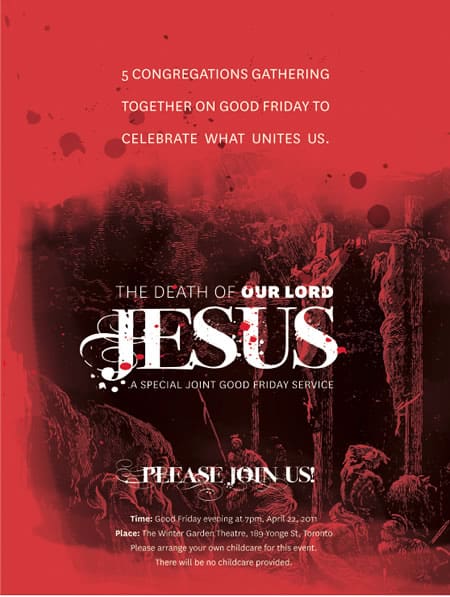 Five churches in Toronto are holding a special Good Friday service at the Winter Garden Theatre on Yonge Street. If you're in Toronto, please consider joining us. If not, please consider praying for this service.
Here are some important notes about the service:
Arrive early – around 6:30 – if you can. The doors open at 6:30, and by all indications from the other participating churches, we could have a pretty full house. You are going to need free tickets to get into the event. They can be picked up at the box office – but to get in, get your tickets and then take the escalator or elevators up to the theatre could easily eat up 15 minutes.
Only take as many tickets as you need. If you are meeting people, let them get their own; the area around the ticket box office is too small and easily will get congested, from what we can tell. Take your tickets and then head up to the theatre up the escalators, and grab some seats for your friends.
The service begins with a theatrical meditation on the Cross by a professional actor, Ins Choi. It begins the service – you do not want to miss it! So don't straggle or you will regret it!!
There is a suggested donation of $20 per person to defray the costs of hosting this event. Please come with checks made out to Grace Toronto Church, or if you have cash, please grab an envelope from an usher as you enter the theatre. The envelopes have room to put your info on them for tax receipt purposes.
The service is slated for about 70 minutes. We have worked hard to keep the service concise.
There will be refreshments, for sale, after the service. The theatre is staffing these concessions for us.
Looking forward to celebrating the wonder of Easter with you this week!