Counterfeit Gospels by Trevin Wax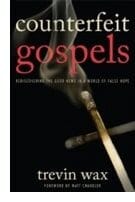 I'm pretty picky with the blogs I read. The ones I appreciate the most connect theology with life and ministry, and are written with practical depth (they're practical and theological at the same time). They're also generous in how they interact with others.
One of my favorite blogs these past few years has been Kingdom People by Trevin Wax. He's on my must-read list. I currently follow 62 blogs; if I cut this down to 2, Trevin's blog would make the list.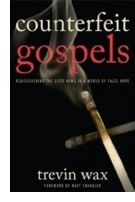 Trevin has a new book coming out on April 1 called Counterfeit Gospels: Rediscovering the Good News in a World of False Hope
. Getting the gospel right is crucially important, and Trevin's book is clear and helpful. I've read an early draft and it's excellent.
To whet your appetite, you can read a couple of posts that give you a sneak peak of what you can expect:
I also appreciated Trevin's post on the Rob Bell controversy that's been going around this weekend.
If you haven't subscribed to Trevin's blog yet, you really should. And if you're interested, you can also pre-order Counterfeit Gospels
. I don't think you'll be disappointed.