Review: To Transform a City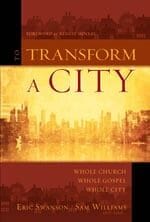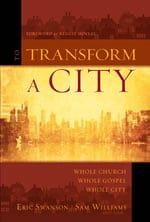 In 2007 the global demographic scales shifted. There are now more people living in cities than in the rural areas of the world. What's more, experts believe this trend is irreversible. "For the rest of human history, the earth's population will be more urban than rural," according to the authors of To Transform a City: Whole Church, Whole Gospel, Whole City
. The question is: how do we respond?
Many Christian thinkers, from Ray Bakke
to Tim Keller, have given thought to this question. To Transform a City is a fresh attempt to help us change the way we think about cities and our ministries there. This book gives a helpful overview of urban theory and the priority of urban ministry. It describes the type of transformation (societal and spiritual) that is possible as churches engage their communities. It presents a case for the church's care for the poor and those on the margin. The heart of the book is a call for the whole church (more than a single church) to take the whole gospel (proclamation and demonstration) to the whole city (business, family, education, government, media, arts/entertainment, and religion).
This book is written at the strategic level. It doesn't cover every theological issue related to social justice, or every topic related to community development. It's designed to raise the importance of urban ministry, and to help Christian leaders think holistically and strategically about their own part in city transformation.
This topic has become one of my passions, and this book is one that I'll be use and recommend. You may not agree with everything in this book – I don't – but it's a helpful guide to thinking strategically about cities and our ministry within them.
This book was provided for review by Zondervan.