Getting Results the Agile Way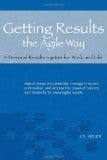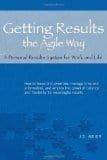 I've been working on trying to shift my time and energy to areas of strength and calling. One of the books I've found useful recently is Getting Results the Agile Way: A Personal Results System for Work and Life
. I discovered through a quote at What's Best Next:
Remember it's not doing less that makes you feel better or stronger. It's spending more time in your strengths and following your passions, and less time doing things that make you weak. The more time you spend in your strengths, the more energy you will have. The more energy you have the more you can accomplish with less effort and less churn.
I finally found a copy of the book – it wasn't easy in Canada for some reason – and I'm a fan. It's easy to implement and provides some good and simple practices that are refreshing. It's low on the guilt, which isn't always the case with productivity systems.
The book is less that $12 at Amazon
, and it's worth every penny. But you can also read the book for free, and find lots of other good material, at the Getting Results website.