What Happened at Love Toronto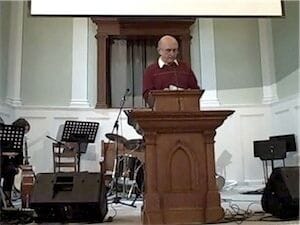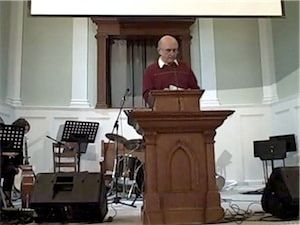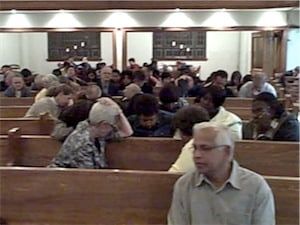 Last night, Toronto Fellowship Baptist Churches got together for an event called Love Toronto. It's the second time we've done this, and the first time was great. I was nervous heading into last night. We were in a new location in the east end, and the weather wasn't great. Would anyone show?
They did. I'm guessing there were maybe 200 people there. We sang and talked about what God has done in the past year. John Mahaffey gave an excellent message from John 4 challenging us to engage in doing the will of the father in telling the gospel to the most unlikely people, instead of getting caught up in all the secondary issues that keep us busy. Mahaffey told the story of Canadian pastor Mark Buchanan's visit with Jim Cymbala, pastor of Brooklyn Tabernacle:
In the course of the meal, Jim turned to me and said, "Mark, do you know what the number one sin of the church in America is?" I wasn't sure, and the question was rhetorical anyhow. "It's not the plague of internet pornography that is consuming our men. It's not that the divorce rate in the church is roughly the same as society at large."
Jim named two or three other candidates for the worst sin, all of which he dismissed. "The number one sin of the church in America," he said, "is that its pastors and leaders are not on their knees crying out to God, 'Bring us the drug-addicted, bring us the prostitutes, bring us the destitute, bring us the gang leaders, bring us those with AIDS, bring us the people nobody else wants, whom only you can heal, and let us love them in your name until they are whole.'"
Afterwards we spent half an hour praying for our churches and our city. The pictures above show Ken Davis leading us in a time of prayer, and people huddled in groups to pray.
It was encouraging to meet at Westminster Chapel. We have a vision for church planting. Westminster began last year as an answer to that prayer. God provided a building for them, and on Easter Sunday that had over 200 people out, and 13 people were baptized. This church is doing some exciting things, including a ministry to women who are caught in the sex trade.
I love Toronto, and it's exciting to see things beginning to happen. I'm hoping for much more.