Review: Zondervan Illustrated Bible Backgrounds Commentary (OT)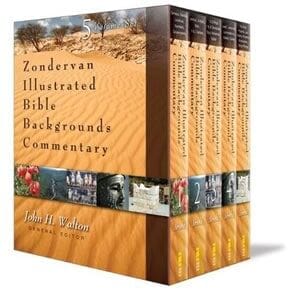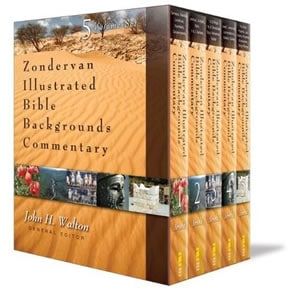 Zondervan Illustrated Bible Backgrounds Commentary: OT (ZIBBCOT for short) is out this month. I've had its companion set on the New Testament for a number of years now, and it's out every time I'm working on a passage that it covers.
This five-volume series contains over two thousand photographs, drawings, maps, diagrams and charts. It's written by an outstanding cast of contributors – for instance, Daniel Block on Judges and Tremper Longman III on Proverbs, exactly the people you would want. Scot McKnight calls it the "commentary set of the year," writing:
The only way I can put it is this: every church and every pastor and ever seminarian, especially those who are evangelical, will want this commentary series within arm's reach on his or her desk. There is nothing like it – and we all know commentaries repeat one another endlessly – and this one doesn't.
I have a review copy of Volume 5: The Minor Prophets, Job, Psalms, Proverbs, Ecclesiastes, Song of Songs. The book is beautiful and wouldn't look out of place on a coffee table. Pictures are on almost every page. For instance, Amos 7:9 says, "The high places of Isaac will be destroyed." The commentary on this section includes a sidebar explaining what high places were, and it even includes a picture. When Proverbs mentions lots, the commentary includes pictures of ancient dice. The Songs of Ascent in the Psalms (120-134) are accompanied by a picture of ancient steps ascending to an area of Jerusalem.
This isn't an exegetical commentary. It's designed to present archaeological findings, historical explanations, geographic insights, and notes on manners and customs. It doesn't necessarily try to communicate the main thought of each passage or even highlight the interpretative issues raised. Instead, it focuses on providing historical and cultural context. This is incredibly valuable, especially since we're historically and culturally removed from Old Testament texts. Yet it's important to understand what this commentary series does and doesn't do. It doesn't replace other types of commentaries or, of course, our own work.
You could lose yourself for hours in one of these volumes without even knowing it. That's one of the things I love about it. It's just fun to read.
I'll be getting the rest of this series. If you're interested in learning more, check out the video below or head over to Amazon. You can also find the set on Logos prepub, but not at a discount.