Review: Kiss Me Again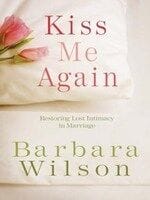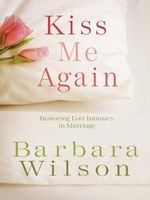 There were times I was reading this book that I wondered what I had gotten myself into. The book is Kiss Me Again: Restoring Lost Intimacy in Marriage. It's written by a woman for women, although she thinks husbands can benefit from it too. I'm still not sure why I chose to review it, but I'm married to a woman and I pastor a lot of women. I also do marriage and premarital counseling along with my wife. So maybe it's good that I read this book. It's maybe even good that I'm reviewing it.
I'm old enough to find the way we view sex today baffling. As a young college girl said in an interview:
These days holding hands in public has more significance than having sex. I was thinking about how easily people will go to bed with someone, but how freaked out they would be if they had to walk around sober holding that person's hand. Sex used to be something that was intimate, and now it can almost impede intimacy in the traditional romantic sense. I realized the other day how long it's been since I had a boyfriend I would walk around holding hands with. I miss that life. (from Unhooked)
Kiss Me Again is based on the premise that past sexual relationships and experiences before marriage damage the sexual relationship within marriage. Wilson shares her story and the story of others, and provides practical advice on how to break free from the past and re-establish bonds of intimacy within marriage.
I would actually recommend this book for pastors and leaders who work with Christian women. We are called to deal with many of the issues raised in this book. I found some new insights in this book that I will be using. It's helped me to get a grip on some of the practical issues that need to be dealt with before the wedding and after. Churches cannot afford to ignore this issue.
I'd also recommend this book to single women. It gives a preview of the issues that will come from getting physical before marriage. It's not prudish. It's realistic, though, about how sex outside of marriage affects us.
Finally, I'd recommend this book to women who would like to rekindle intimacy in their marriage. There's lots of practical help in this book. It deals sensitively with some very tough issues.
I think this book could also be supplemented with other material from CCEF, or from books like Unpacking Forgiveness by Chris Brauns.
I wasn't sure what to expect when I picked up this book, but I'm glad to see someone dealing with such an important topic that needs to be addressed with sensitivity and Biblical wisdom.
By the way, I'll be giving away a free copy of this book tomorrow. And I'll have a much more manly post too. I promise.
This book was provided for review by the WaterBrook Multnomah Publishing Group.