Ten Years at Richview Today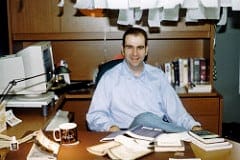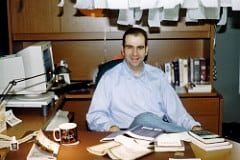 Ten years ago today I began as the new pastor at Richview Baptist Church. Those were the days Windows 98 was a big deal (just a week old at that point), overhead projectors were still in common use, and I was skinny and had hair. (If you look carefully you can even see a bottle of liquid paper on my desk. When was the last time you used Liquid Paper?)
In September of that year we held an induction service.
I think it's safe to say that all of us look different today.
In those ten years Richview has changed a lot, and so have we. Jack Miller said to stay in one place until you've been humbled.
The best way…development takes place is by staying under one set of leaders to give them enough time to know you so that the obvious impossibilities of [leading] in your own strength can be pointed out and the younger leader broken before the Lord to abandon pride and move into Jesus' love. But this usually doesn't come very soon if a man moves about too much. People just don't get to know him, and he moves on before getting humbled by seeing how impossible ministry is. It's one thing to see things happen with others leading; it is another to see them happen to you and through you, and that takes time and sweat. (The Heart of a Servant Leader)
On Sunday, Sandy, worship leader and head blogger at Taste Buddy, spoke his love language and mine by presenting me with a basket of spicy snacks to mark the occasion: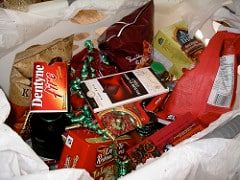 Charlene and I were talking the other day about how much we love what Richview has become and is becoming. It's been a privilege to have been there ten years now through lots of ups and downs, and to have the sense that God isn't done working with us yet.