D. Martyn Lloyd-Jones: The First Forty Years 1899-1939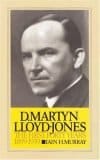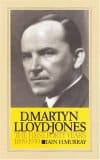 I've known about Martyn Lloyd-Jones for years. I knew he was a medical doctor who gave up a promising career to become a pastor. I knew he was stern and a gifted preacher who could take years to work through a book of the Bible. I remember being captivated listening to a cassette tape of him preaching on two words: "But God…" But when I kept hearing Tim Keller mention the influence of Lloyd-Jones on his own ministry, I had to learn more. I'm glad I did.
The first thing that struck me as I read this volume is how little things have changed. Sometimes I make the mistake of thinking that we are the first to encounter some of the trends and fads that everyone writes about. The landscape of this book seemed familiar to me: churches in decline, a massive rethinking of theology, an emphasis on pragmatism, a loss of confidence in preaching, a desire to be relevant, and an old version of the attractional-missional debate. Anyone who is familiar with books and blogs on church life today will recognize many of the same issues in this book, even though Lloyd-Jones lived a century ago.
Lloyd-Jones became an oddity within this context. He believed that the solution to the decline of the church was nothing less than a rediscovery of the Gospel, and a reawakening to the identity of the church. In other words, Lloyd-Jones pressed for a return to first things. He seemed radically out of step with his times, but the result was a greater relevance and impact than if he had tried to be relevant.
Here's an example of the problem as Lloyd-Jones saw it:
We are not declaring the Gospel with power to a dispirited and disillusioned age; we are not living in the discipline of Gospel fellowship; only in a very imperfect degree are our churches God's resting place and holy habitation. The depressing and alarming thing about our churches is not their tiny congregations, their shabby buildings, their social insignificance, their political impotence. If our churches are in peril it is not because they are less crowded than cinemas, less powerful than the promoters of dog-racing, less correct than Sunday golf, less fashionable even than Romanism or Christian Science. If our churches are in peril, it is because they have forgotten what they are.
Surprisingly, Lloyd-Jones didn't believe in evangelism programs. He believed that when the church understood the Gospel and who she was, and lived in light of that reality, that would have more of a missional impact than any Gospel program. This reminds me of what Dallas Willard said about not making outreach a primary goal.
Even though Lloyd-Jones violated everything that his contemporaries said about effective ministry, his impact was enormous and is still being felt today.
Besides this book's message for today, there is lots to appreciate about the story of his life. I was surprised to read that Lloyd-Jones almost moved to Winnipeg as a boy. As a resident of Toronto, I loved reading of his visits to this city, and how we confronted T.T. Shields, the polemical pastor of Jarvis Street Baptist Church, and told him to stop being so negative. While staying at 74 St. George Street in Toronto, Lloyd-Jones discovered a series of books across the road at Knox College that significantly shaped his life. And we read that he never tired of visiting Niagara Falls.
A good biography is humbling. This one helped me realize that our problems and the proposed solutions aren't so new, that God uses individuals who are somewhat out of step with the times, and that the solution involves, more than anything else, the Gospel.
I'm looking forward to reading Volume 2.
More from Amazon.com | Amazon.ca