Christina's Grade 8 Grad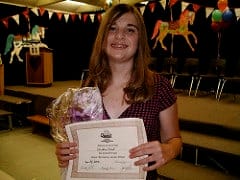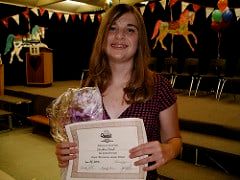 I don't know how it happened, but somehow we got old enough to have a daughter graduate from Grade 8. That's right, we now have a daughter who is about to enter high school. Scary.
I have mixed feelings about all the graduations that take place these days – graduating from kindergarten, grade 6, etc. But this was a bit of a milestone, and we had fun the other night watching her enjoy the occasion.
One of the highlights was hearing one of the teachers use a poem Christina had written to end her speech. With Christina's permission, here's the poem she wrote to mark the end of her time at Quest Alternative School.
reflect
upon the waters
in which I've traveled,
where I've been
I just finished
not a quest
but a part of the journey
it is not the end
but the end of the beginning
there is still a ways to go
but I've finished
being a curious wide eyed kid
I am making a transition
to a ever wondering teenager
I am making the transition
past elementary
past that small island
onto the next stage of my life
my journey
my quest
A part of my heart
will stay at the island
will stay in my childhood
will stay at this tiny school
no matter how far I travel
how much longer I have to go
I am prepared to move on
to face the next part of my quest
my life, my all
but I still shed a tear
at the thought of leaving,
the thought of each friendship here
might slowly fade
but I still have the knowledge
to move through out my journey
and carry on my quest
this is not the end
but the end of the beginning