Compelled by Love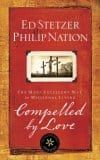 One of my friends often says that we don't have a how-to problem. It's much more serious than that: we have a want-to problem. That could be why many of the books and seminars we have don't really work. Many of them offer more how-to solutions, when what we really need is to want to do what we already know we should be doing.
Compelled by Love: A Most Excellent Way to Missional Living, written by Ed Stetzer and Philip Nation, is different. It tackles the real reason we don't engage in mission as we should. The issue is not technique; it's love.
The authors write:
If we operate by our own view of the world and our own strength, we will walk away from people every time. However, Christ's love in us – the conviction of Christ's truth displayed in love and the change in our lives because of redemption – causes us to have a new view of people and a new life of compassion for the saved and the lost.
Stetzer and Nation take us on a tour of the triune God's missional love for us. They then lead us to consider the church's mission, which is evidence of God's love. We are not called to be the hippest churches, nor are we to focus on our abilities. Instead, it's about presenting God's presence to the people of this world. When we understand God's love and our mission, we'll be prepared to give up on our "needs", and love and be loved within the church. We'll discover that love and obedience go together. This will lead us to love and to share God's missionary passion for the world.
If you're looking for a how-to book on missional living, this isn't it. But if you're looking for a book that will lead you to think about issues below the surface of missional living and missional churches, then Compelled by Love is a book you'll want to read.
More from Amazon.com | Amazon.ca | CompelledbyLove.com