From Embers to a Flame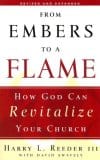 I have dozens of books on church revitalization. They range from trendy and shallow to not bad, but few of them are really good. That's why I am glad to have found From Embers to a Flame: How God Can Revitalize Your Church. This book manages to be both biblically grounded and practical, and is a useful guide for church leaders who would like to see their churches transformed.
The author, Harry L. Reeder III,  first makes a case for why church revitalization is necessary. This is important because revitalization is sometimes ignored in favor of church planting, leaving pastors in struggling churches wondering if it's worth it. Reeder then offers a paradigm for revitalization based on the church in Ephesus, which he traces through Acts, the pastoral epistles, and from Revelation 2. Reeder describes ten strategies that fall under three categories: remember, repent, and recover the first things.
While some may find ten strategies or steps to be signs of yet another pragmatic book focused on methodology, these strategies go deeper than many I've read. I'm glad he emphasizes the importance of connecting with the past, and acknowledging and repenting of corporate sins. His focus on gospel-driven and Christ-centered ministry is also welcome and necessary. Reeder writes, "Since the gospel is such an important, powerful, and life-changing message, it should be the center of everything we do in the church of Jesus Christ." Although this should be obvious, it's often ignored. Reeder also emphasizes the importance of biblical preaching, since God uses his Word to change the hearts of people.
Reeder also covers other matters that sometimes come too early: mission and vision, the multiplication of servant leaders, small group discipleship, and evangelism.
Reeder concludes, "The church you pastor may not be a flame bringing light and heat, but I know that its embers can be stirred up – not through gimmicks, programs, or personalities, but through godly leadership to a biblical paradigm of church revitalization." It is this emphasis that I appreciate most. If you're in a church that needs revitalization, I highly recommend this book.
More from Amazon.com | Amazon.ca | Embers to a Flame