Toronto the Good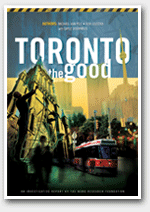 I'm hugely impressed with the Work Research Foundation. In fact, I hope to get to know them better than I do right now.
They've just come out with with a new study that's going to be a big help to those of us who are called to Toronto:
This investigative report brings urban centres and their religious institutions back into the dialogue of city building. Inside Toronto the Good you will find substantial, qualitative and original investigations with bearing on the problems and potentials in the city of Toronto, and its communities of faith and hope.
Toronto the Good is designed to connect hundreds of municipal, business, social service and municipal leaders with an interactive research initiative meant to change their understanding of city building, and the place of the church in the city.
The study is available for free as a download. I'm going to be reading it very carefully.