T4G: Initial reflections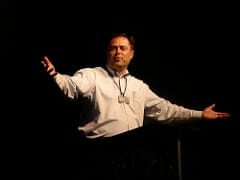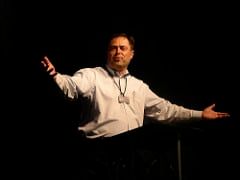 Tim Challies is live blogging T4G. I won't try to duplicate his efforts, but here's what sticks out to me so far:
This thing is huge. There are some 5,500 people here, more than double the number who were here two years ago. Not the hugest conference I've been to, but definitely the biggest Reformed conference.
Whenever I travel outside of Toronto, I'm surprised by the relative lack of diversity. Toronto has become normal to me.
The book room is amazing. There are no filler books. You could buy almost anything in there and it would be worthwhile. Dangerous.
It's cool to see and meet people I know about from magazines and online.
One of the things that I enjoy most is seeing different personalities together to see what happens. I'm enjoyed the first panel discussion after the session. I'm glad the panelists are not all alike, and I'm really enjoying the differences in personality.
I love being at a conference that is both practical and theological at the same time. So often you have to choose.
Even though I am theologically on the same page in many ways with the people in this room, I am not on some secondary issues. I am sometimes concerned that these secondary issues get mixed in together with the primary ones like gospel. I love this group but I'd like to see a clearer delineation between core and secondary issues. I think it would be possible to do this while keeping some of its current focus, but I'm not sure.
A great time so far. Got to run to the evening session.