The adventuresome life of Buddy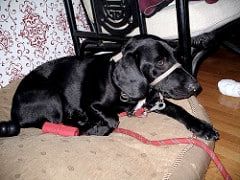 It was almost two years ago to the week that we adopted a rescue dog from the local animal shelter. We named him Buddy, and life has never been the same.
Buddy should have been a cat because I'm sure he's had the proverbial nine lives. Soon after getting him he trashed our basement. We soon moved on to other containment measures but he seemed to get out of them as well. His first Christmas with us we came home from church, and he had trashed part of our living room to show us he wasn't happy being left alone. This was on vet prescribed Valium as well. Hate to see him if he became really excited.
I count at least 4 or 5 times that we really considered getting rid of him. At the beginning Charlene kept Buddy in the game. Lately it was me. He was getting a lot better and we were finally beginning to reap the benefits of sticking it out. I joked with Charlene that I wanted to keep him a good long time so that we could amortize all that we've invested in him over a longer period.
But this Tuesday we were on vacation in Ithica, New York, and Buddy was stolen. I wish I could say that I'm feeling magnanimous for the new owners, but I'm not there yet.
I haven't given up hope completely yet, but at least for now, it's the end of Buddy's adventuresome life with us. Knowing him it will continue, except with someone else. I wish them the best of luck. They'll need it.