The Bride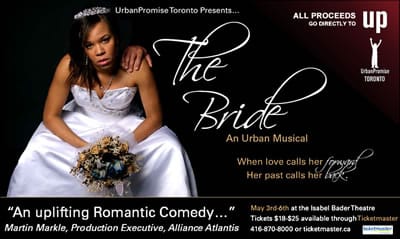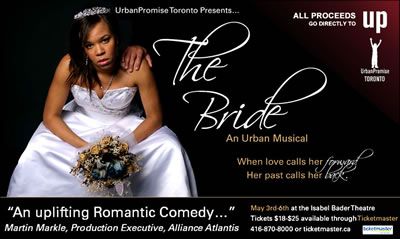 I took my daughter on a date tonight to see The Bride, an urban musical put on by Urban Promise. I wasn't sure what to expect. I don't get out to a lot of urban musicals these days.
Any fears that I had that it would be second rate were soon gone. The script was great, and the music and acting were extremely well done. It was gritty enough to be real and it dealt with issues that we face on our streets.
I wasn't prepared for some moments at the end when I was walloped by the beauty of the gospel. It was done in almost a C.S. Lewis fashion – it was there but not in your face, but with such strength that it could knock you over. I was knocked over with the beauty of the gospel tonight.
Congratulations to Colin and to everyone involved in pulling this production off.
If you are in Toronto this weekend, there are still two performances, and believe me, this is worth seeing. You won't regret it.