The Blogging Church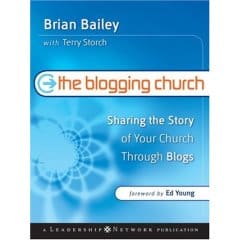 Just saw an ad for this book:
"Brian Bailey makes two things crystal clear in this book: if you've got a church, then you need to spread your story. And if you need to spread your story, blogs are now an essential tool. Time to pay attention!"–Seth Godin, author, Small Is the New Big
The Blogging Church offers church leaders a field manual for using the social phenomenon of blogs to connect people and build communities in a whole new way. Inside you will find the why, what, and how of blogging in the local church…
The book includes contributions from five of the most popular bloggers in the world—Robert Scoble, Dave Winer, Kathy Sierra, Guy Kawasaki, and Merlin Mann, as well as interviews with blogging pastors such as Mark Driscoll, Craig Groeschel, Tony Morgan, Perry Noble, Greg Surratt, Mark Batterson, and many more.
Interesting!