Pagan Christianity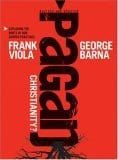 "I can't believe this book is getting published by a big-time publisher," writes blogger Brant Hansen.  "This is going to be interesting…This book is going to honk people off."
The book he's talking about is Pagan Christianity (available for pre-order at Amazon or for immediate purchase at the book website), originally written by Frank Viola but now updated with George Barna as co-author. This book comes with a disclaimer from the publisher: "Tyndale does not necessarily agree with all of the authors' positions…The authors raise important questions…These questions should not be ignored."
Here, in a nutshell, is the argument of the book:
The origin of many of our church practices (examples: church buildings, orders of worship, sermons, pastors, tithing, clergy salaries) is non-biblical, and these practices are inconsistent with those of the early church. "Almost everything that is done in our contemporary churches has no basis in the Bible." (p. 4) Much of it was lifted from pagan culture.
Just because something does not appear in the Bible does not mean it is wrong. However, our non-biblical church practices often hinder the development of our faith and keep us from encountering the living God.
"The church in its contemporary, institutional form neither has a biblical nor a historical right to exist." (p. xx)
The church must return to its biblical roots. At a personal level, we must ask questions of church as we know it and pray seriously about what our response should be.
I think that covers the basic argument of the book. I'm going to return to each of these and take a second look to see if their arguments hold up.
For now I will only leave this comment. This book threatens a lot that pastors and churches hold dear. But that shouldn't scare us. If they're right, it doesn't matter what it threatens. This book has to be evaluated on the evidence and the strength of its arguments, not on how much it will cost us if they're right.
More to come. Rumor has it that Bill Kinnon will be blogging on this book as well today.