Halloween 1988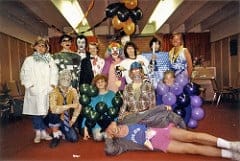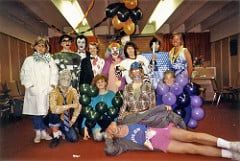 In October of 1988, I was a student in my second year of seminary. I had just returned from spending the summer in North Bay and was enjoying the independence of living alone at the ripe age of 21 on the east side of Toronto.
Our College and Career group at church held a Halloween party. For some reason I didn't have time to get a costume together. Still, I decided to attend.
One of the first people to ball me out for my lack of costume was the clown you see at the center of the back row – a picture I took because I was the only one out of costume. I had no idea who this clown was, but it was strange to be balled out by someone I didn't know. Later on that night, she gave the Bible study. Yes, a clown gave a Bible study at a Halloween party in a church. You figure it out.
I was intrigued and couldn't wait to find out who this person was. I soon saw her in her normal clothes and was still intrigued. I was very interested. Unfortunately, so was one of my housemates. That all sorted itself out, and half a year later we were dating. A year and a half after that we were married. But it all started this night 19 years ago.
I often wonder what it means that I married someone who balled me out the first time I met her. I also wonder what it means that I married a clown. But it's too late to look back, and I really wouldn't want to anyway.