A Networked Conspiracy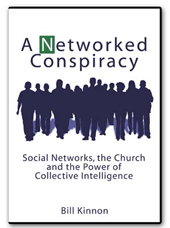 One of my favorite local bloggers, Bill Kinnon, has released a new book called A Networked Conspiracy, along with a splashy new blog to go with the book.
First it's a combination audio book and softcover 55 page booklet featuring the entire text of the audio book – including 50 reference links…
The book was partly written as the result of frustration with "modern" church leadership. We've become great at "delivering services" while ignoring the incredible potential that exists in the people to whom we "deliver those services." In the Cluetrain universe we now inhabit, many, if not all people want to be involved. They want to both listen and be heard – they want to engage and be engaged. The one way communication of most "churchianity" just doesn't cut it for them/us – and we not only want to be heard…we will be heard.
Looks good! I'm adding this to my next book order.