Seven!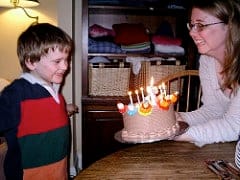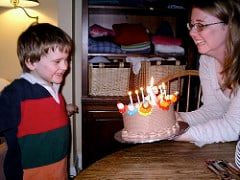 My boy is seven today. We celebrated on Saturday night before I left, but I'm going to miss the main event today since I'm in Boston and he's not.
Parenting has taught me a lot. We usually measure ourselves by our accomplishments. Long before my children have accomplished anything, they have brought me incomparable joy. I thought of this as I read this passage in Gilead:
I'm writing this in part to tell you that if you ever wonder what you've done in your life, and everyone does wonder sooner or later, you have been God's gift to me, a miracle, something more than a miracle. You may not remember me very well, and it may seem to you to be of no great thing to have been the good child of an old man in a shabby little town you will no doubt leave behind. If only I had the words to tell you.
Happy birthday, Josiah. Wish I could be with you today.