Archeological Study Bible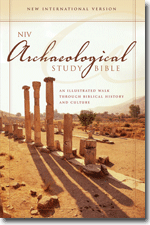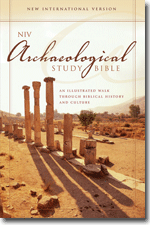 Gordon-Conwell and Zondervan have just come out with the Archeological Study Bible. I'm a little skeptical of new study Bibles, but I picked this one up last week and it's unique. I've been using it every morning and it's shed some new light on 2 Samuel, which I'm going through right now on my journey through the Bible and the Apocrypha this year.
Here's the deal: the bookstore here is selling them for half price (US$25 for a hardcover, $40 for bonded or European leather, $45 for top grain leather), and then there's a $10 rebate from Zondervan. I can probably haul a couple with me on my way back if you'd like one.
Let me know if you'd like a copy over the next couple of days.
Update: I'm back home now – too late to pick one up for you now. Sorry! But you can order one below: