The dog experiment that failed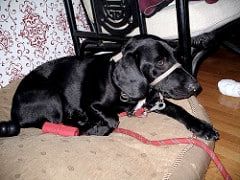 It's been four months since we brought a black lab-hound home from the pound. We've survived the destruction of his crate and the neighboring carpet and computer, a trip to the behaviorist, and all kinds of incidents I haven't blogged.
Last Sunday, we came home from church to find that Buddy had gone on another rampage in the house. Nothing valuable was damaged, but we were lucky. What surprised us the most is that Buddy was on Valium that morning. Yes, they prescribe Valium for dogs. Charlene figured it was a good idea since it could be used on me or the dog, depending on what happened.
We've finally realized our little dog experiment has failed. We are not going to be the ones who can get him over his separation anxiety.
It's too bad, since he really is a good dog when we're around, and we've invested a lot in making this work. But dogs that come from pounds sometimes have issues.
So, we're looking for a new home for the dog. He'll make an excellent pet for someone who is home more than we are, and can give him enough exercise. But it's not going to be us.
If you know of anyone who's up to the challenge, let me know.