Thank you Trip Advisor
Last time I stayed in a hotel in London, it was a dump. I found out later that it was rated number 746 out of 973 hotels in London. No wonder. A little research on Trip Advisor led me to the Crown Moran Hotel this time, rated number 32 in London, and for only a little more than Easy Hotel would have cost at the last minute.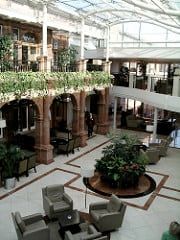 It's slightly out of the way but is worth it for what you get. Great rooms and breakfast is included – much better than the $70 the breakfast would have cost us if we had just walked in. Not that we would have had the breakfast at that price. We are leaving here for my Dad's shortly. More later. Update: I'll be posting pictures here.