World Youth Day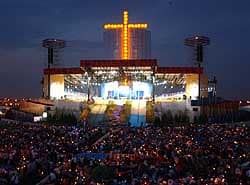 I may have been one of the few Protestant pastors to attend World Youth Day last week. I walked about 5 km to the site and was amazed by the volume of people and the amount of time it took to do simple things like go to the washroom (at least an hour).
I'm not Catholic, and I struggle with many areas of Catholic theology, yet I was struck by the spiritual hunger I sensed. Sure, they treated the Pope like a rock star, and yes, some in the crowd were not really paying attention. But many were. Those of us who are evangelical should really try to learn from what took place. As one person wrote last week:
What is it about Pope John Paul II that makes him so appealing to young people? Why do they rush, now in Canada as before in France, by the thousands to this 82-year-old man, whose hand is shaking uncontrollably from Parkinson's disease?
Why are they not put off by the fact that he is often barely audible and keeps dabbing spittle from his mouth? Why do they flock to him rather than some snazzy yuppie cleric with a tailor-made dog collar under his immaculately shaved and perfumed chin?
Because it's springtime for trustworthy old men — springtime for integrity.