The Gift of Unity (Psalm 133)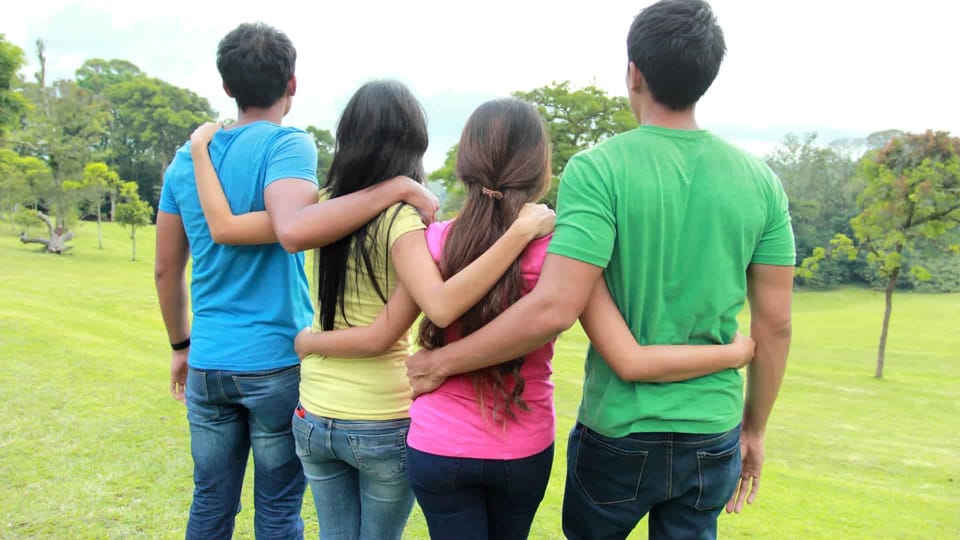 Big Idea: Pursue unity, because it's good, pleasant, and blessed by God.
---
In 2020, a Florida man was jailed for assaulting another man. Justin Anthony Garcia was charged with aggravated battery for assaulting his cousin. Nothing unusual there.
But what is unusual is what the conflict was about. Unlike most scenarios, the conflict was not over a woman, a debt owed, or even sports fandom. The argument was over whether almond milk was superior to whole milk.
"Their verbal argument became physical when Garcia became enraged at the victim for disagreeing with him … He proceeded to punch the victim with a closed fist to the victim's left side of his forehead." When the cousin tried to fight back, Garcia produced the knife. "The victim became scared of what Garcia might do with the knife and proceeded to run away from Garcia as he chased the victim through the front yard," according to official court documents.
A confidential source at the scene was unable to confirm which variety of milk Garcia preferred, nor whether any actual milk was spilled in the fracas.
Ever since the Fall in Genesis 3, conflict seems to come naturally to most of us. And it's no different in the church.
Earlier this year, Kevin DeYoung wrote:
It's no secret that America is suffering from ever-deepening division and polarization. Many of us are concerned about the increasing animosity, belligerence, and violence in our body politic. What concerns me even more are the divisions in the church.
He went on to explain that there are four different "teams" within the church right now, all with very different ways of seeing issues around race, politics, masks and vaccines, and other social issues. No wonder there's so much conflict. In just the past two weeks, I've seen two people fired for belonging to the wrong "team." I've seen churches experience disunity. I've seen friendships end.
By virtue of following Jesus, we become part of his people, the church. And the problem in the church is that some of our spiritual siblings drive us crazy. They see the world differently than we do. They have quirks. Some of them are abrasive.
The people we encounter as brothers and sisters in faith are not always nice people. They do not stop being sinners the moment they begin believing in Christ. They don't suddenly metamorphose into brilliant conversationalists, exciting companions and glowing inspirations. Some of them are cranky, some of them dull and others (if the truth must be spoken) a drag. (Eugene Peterson)
Not only that, but we live in a society that makes it harder to form deep and lasting relationships. We live in a community in which 70% of people move within two years. It's hard to form community with so many people moving all the time.
In his best-selling book The Greening of America, Charles Reich writes:
Modern living has obliterated place, locality and neighborhood, and given us the anonymous separateness of our existence. The family, the most basic social system, has been ruthlessly stripped to its functional essentials. Friendship has been coated over with a layer of impenetrable artificiality … Protocol, competition, hostility and fear have replaced the warmth of the circle of affection which might sustain man against a hostile environment.… America [has become] one vast, terrifying anti-community.
Are our churches exempt? Michael Scott Horton writes:
Our churches are one of the last bastions of community, and yet, they do not escape individualism.… Many of us drive to church, listen to the sermon, say "hello" to our circle of friends, and return home without ever having really experienced community. Earlier evangelicalism was so focused on corporate spirituality that communion was taken with a common cup.… We hear endless sermons on spiritual gifts and how the body of Christ is supposed to operate in concert. And yet, our services often are made up of the professionals … who entertain us and the individual, separate believers who are entertained.
Whether it's over milk, or a personal grievance, or over social issues, or just because of the way we live, it's a rare thing to experience the community God intends for us.
And that's where Psalm 133 comes in. It offers a much better way.
Read verse 1 with me:
Behold, how good and pleasant it is
when brothers dwell in unity!
The song puts into words what we've all experienced.
Unity is Good and Pleasant
It is a very good thing when we're part of a community, and we all get along. We were made to live together. You know what it's like to experience it. It's not an everyday experience for most of us, but it's glorious. One person (George Eliot) writes:
Oh, the inexpressible comfort of feeling safe with a person; having neither to weigh thoughts nor measure words, but to pour them all out, just as they are, chaff and grain together, knowing that a faithful hand will take and sift them, keep what is worth keeping, and then, with the breath of kindness, blow the rest away.
It is a beautiful thing to experience.
In fact, the psalmist uses two words to describe this experience of brothers living together in unity: good and pleasant. David doesn't just emphasize that it's objectively good. He goes farther than that. He says that it's pleasant. It feels really good. It's attractive, desirable, and pleasurable.
In verses 2 and 3, David uses two similes to describe what this unity feels like.
It is like the precious oil on the head,
running down on the beard,
on the beard of Aaron,
running down on the collar of his robes!
It is like the dew of Hermon,
which falls on the mountains of Zion!
The first simile describes oil on the head of Aaron and his descendants. It's a throwback to Exodus 29:21:
Then you shall take part of the blood that is on the altar, and of the anointing oil, and sprinkle it on Aaron and his garments, and on his sons and his sons' garments with him. He and his garments shall be holy, and his sons and his sons' garments with him.
Pouring oil on Aaron and his descendants marked them as holy, as consecrated to God. And dwelling together in unity is just like that. When we build genuine community together, it's a sign of God's presence, and a means of blessing to those around us.
I visit a lot of churches. It's so enjoyable. What I've learned is that you can just feel something different in some churches. It's indescribable, but you can't miss it. I think it's what David is talking about here. When people really love each other, you can sense God's presence. You can smell the fragrance of that within the whole church. It can be a big or small church, but you just get the sense that God is there.
David uses a second simile: the dew of Hermon, which falls on the mountains of Zion. Hermon was the tallest mountain in ancient Israel; located on Israel's northeast boundary. It was over 9,000 feet tall. David imagines the dew running all the way from Hermon to Jerusalem, in the drier, barren area of Judah. It's refreshing. It brings life. It's what a parched land needs.
Do you get the picture? Unity is really good. It's enjoyable. It marks God's presence and brings blessing to others. It satisfies our thirst. It's what we desperately need.
Where to Find God's Blessing
So that's why it's so important. The question is: how do we get it?
Verse 3 says:
For there the LORD has commanded the blessing,
life forevermore.
What does "there" refer to? I think it's tying together the idea of unity among God's people, particularly as they gathered in Jerusalem for the three feasts they celebrated together each year. When God's people come together to worship as God commands, God commands a blessing there, life evermore.
Something happens when God's people get together. That's why online church will never cut it. It's why we need to fight to get back in person. God's people are meant to gather. Something happens when we're together, in the same room, with people who are very different from us, and who sometimes drive us crazy.
In a recent book, Jonathan Leeman writes:
Jesus organized Christianity this way. He means to center our Christianity around regularly gathering together, seeing one another, learning from one another, encouraging and correcting one another, and loving one another. Spiritual things happen when Christians stand elbow to elbow, breathe the same air, join our voices in song, hear the same sermon, and partake of the one bread (see 1 Cor. 10:17). You look around and think, I'm not alone in this faith. What might we do together?
Don't get me wrong. I'm glad we've had Zoom over the past year and a bit. But it's not the same thing, and we should never settle for it. As soon as possible, we must get back, because God it's when we experience this in-person flesh and blood unity that God commands the blessing. Something happens as the church gathers that can't be matched anywhere else.
Let me wrap up here.
You were made for this. It's what Jesus died to create. In Ephesians, Paul describes the salvation that God has given us through Jesus for three glorious chapters. And then he begins to explain what it means, and here's where he starts: unity. Community. Jesus died to create a new community in which divisions cease. God shows his diverse wisdom to the spiritual world as he points to the kind of community that Psalm 133 describes.
I want to invite you to step out of individualism and to give your life to experiencing this kind of community. It can only come as the reality of what Jesus did becomes real to us. It will be costly and inconvenient. It will sometimes be hard. But you will be amply rewarded. There's nothing else like it.
During World War II, a man named Dietrich Bonhoeffer lived in Finkenwalde with 25 vicars. Hitler and the Third Reich crushed everyone in their way. This small community lived in this destructive environment. You would think that in such a dangerous environment, the last thing you'd be worried about is something like community.
But it was there that Bonhoeffer wrote his classic work Life Together. He begins by citing Psalm 133:1. In the middle of a polarizing and hostile environment, he wrote about the beauty and necessity of living together. He writes about the gift of community, one that we only have because of our fellowship with Jesus together.
And he invites us to enter in. Let me close with his words:
Let him who until now has had the privilege of living a common Christian life with other Christians praise God's grace from the bottom of his heart. Let him thank God on his knees and declare: It is grace, nothing but grace, that we are allowed to live in community with Christian brethren.
Thank you for this gift. Help us to enter into it through Jesus. Help us to prioritize it and to never take it for granted. In Jesus' name. Amen.