Take Ten Looks at Jesus
Here's the truth about all of us: we fail regularly. Our growth is slower than we'd like, and our failures are more frequent than they should be. It's easy to get discouraged. We don't serve Jesus as we should.
There's a lot of debate about whether Paul wrote these words referring to his Christian or pre-Christian life, but there's no question that most of us can relate:
For I delight in the law of God, in my inner being, but I see in my members another law waging war against the law of my mind and making me captive to the law of sin that dwells in my members. (Romans 7:22-23)
What can we do about this problem?
Thanks to God for Jesus
Paul's answer to this problem is clear:
Wretched man that I am! Who will deliver me from this body of death? Thanks be to God through Jesus Christ our Lord! (Romans 7:24-25)
The answer to our problems is not to try harder or to change ourselves. The answer to our problems is to look to Jesus. Jesus provides the solution that we could never provide for ourselves. He rescues us from both the penalty and the power of sin. Through Jesus we are given new life and a fresh beginning. Once we begin our new lives in Jesus, it becomes possible to obey God like never before.
Jesus makes a fundamental change in us. Don't look to yourself to change. Look to Jesus. All obedience flows from the new life that he gives us.
Keep Looking
Don't just look at Jesus one time. Look to him regularly for the help that you need to live the Christian life.
James reminds us: "He gives more grace" (James 4:6). James offers this truth in the context of telling us that God demands a lot from us. God is jealous; he won't put up with our unfaithfulness. He demands our allegiance. That sounds scary, and it's why James reminds us: God gives us all the grace we need to meet his demands. As Augustine said, "God gives what he demands."
The power we need to change comes from God himself. Keep looking at Jesus. He will give you all the grace you need to grow and serve him.
What to Do When You're Discouraged
What should you do when you fail and you're feeling discouraged?
Scottish pastor Robert Murray McCheyne (1813–1843) said, "For every look at yourself, take ten looks at Christ."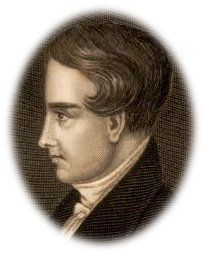 In the same letter he said:
He is altogether lovely. Such infinite majesty, and yet such meekness and grace, and all for sinners, even the chief! Live much in the smiles of God. Bask in his beams. Feel his all-seeing eye settled on you in love, and repose in his almighty arms … Let your soul be filled with a heart-ravishing sense of the sweetness and excellency of Christ and all that is in Him. Let the Holy Spirit fill every chamber of your heart; and so there will be no room for folly, or the world, or Satan, or the flesh.
Look to Jesus so you're not as discouraged about yourself. Look to Jesus because you will find everything you need there to fight sin and to grow.
Do you want to grow? Are you frustrated by your lack of growth? Don't look at yourself. Take ten looks at Jesus.
For more information on growth, check out How to Grow: Applying the Gospel to ALL of Your Life.
var _paq = _paq || [];    var url = "https://gospel-for-life.storychief.io/take-ten-looks-at-jesus?id=559293296&type=2";    const queryDict = {};    location.search.substr(1).split("&").forEach(function(item) {queryDict[item.split("=")[0]] = item.split("=")[1]});    if ('contact' in queryDict){      const separator = (url.indexOf("?")===-1)?"?":"&";      url = url + separator + "contact="+queryDict['contact'];    }    if ('list' in queryDict){      const separator = (url.indexOf("?")===-1)?"?":"&";      url = url + separator + "list="+queryDict['list'];    }    _paq.push(['setDocumentTitle', 'Take Ten Looks at Jesus']);    _paq.push(['setCustomUrl', url]);    _paq.push(['trackPageView']);    _paq.push(['enableHeartBeatTimer', 15]);    _paq.push(['enableLinkTracking']);    (function() {        var u="//storychief.piwikpro.com/";        _paq.push(['addTracker', u+'piwik.php', 'd767e251-e777-4580-bbc2-19cabecad9ef']);        var d=document, g=d.createElement('script'), s=d.getElementsByTagName('script')[0];        g.type='text/javascript'; g.async=true; g.defer=true; g.src=u+'piwik.js'; s.parentNode.insertBefore(g,s);    })();