Preach Christ, Not Just His Benefits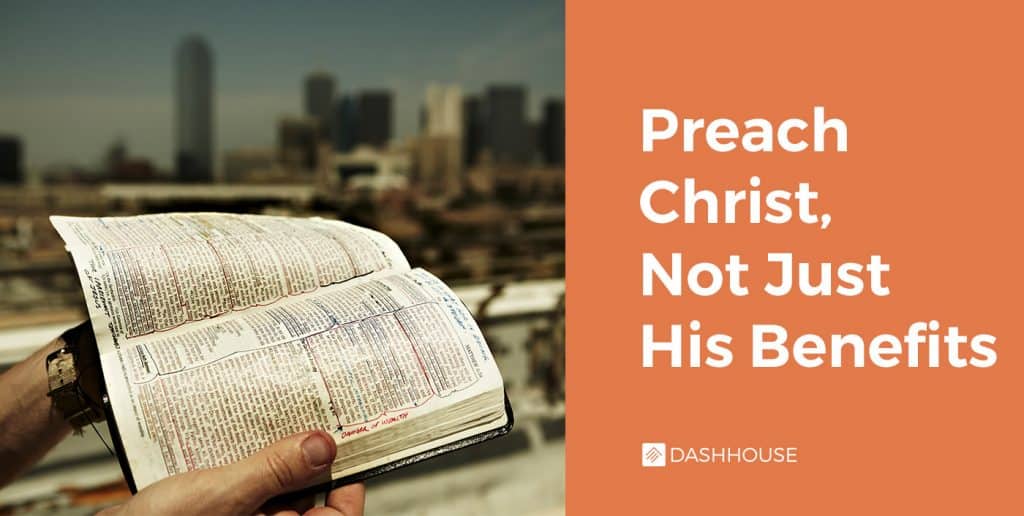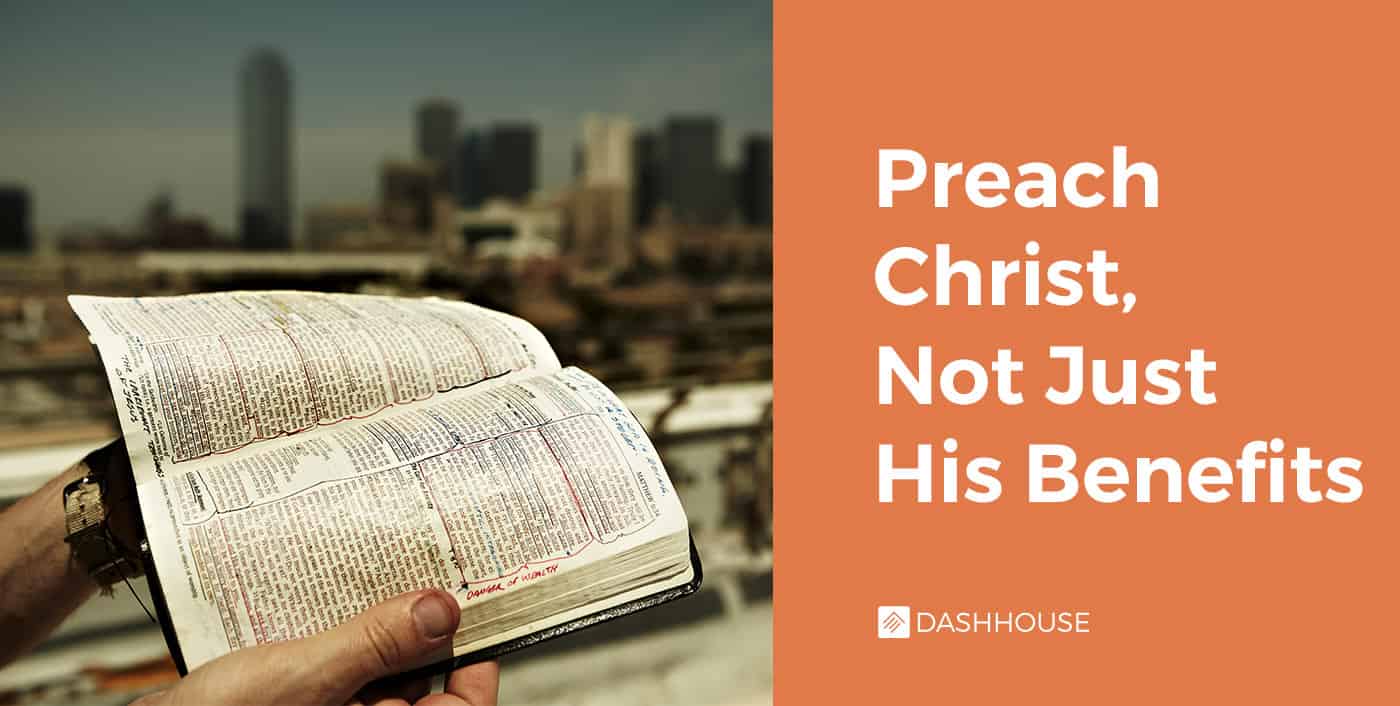 I was sitting in the coffee shop as I finished writing my sermon. The text I was preaching made big demands on the listener. What is it, I wondered, that will enable us to meet those demands? What benefits are ours in the gospel that give us what we need to apply the truths of the Scripture?
It's a pretty good question. I've done my share of moralistic preaching in the past, and I'm not going back. There are so many benefits that are ours in the gospel, and it's hard to get tired talking about them. We have forgiveness, regeneration, adoption, the empowering presence of the Spirit, and so much more.
There's a danger, though, in talking about the benefits of salvation. If we're not careful, we'll separate the benefits from Jesus himself.
Preaching HIs Benefits
I finished my sermon and spent some time reading The Whole Christ by Sinclair Ferguson. It's a book that I've been meaning to read. I've heard good things, and one of my friends even changed ministries as a result of reading it.
As I read, Ferguson may as well have knocked me on the head with a 2 by 4.
According to Sinclair, we've lost one of the most prominent emphases in the New Testament: union with Christ. As a result, "it is highly likely that we will have a tendency to separate Christ from his benefits and abstract those benefits from him (in whom alone they are to be found) as though we possessed them in ourselves," he writes.
Ferguson argues that this is a subtle but profound change, and that it colors everything. At stake is the very nature of the gospel.
We can still talk about how to overcome sin, how to live the Christian life, or about the benefits of the gospel, of course. "All are legitimate emphases in their place, but that place is never center stage."
It's so easy to preach the benefits of the gospel without preaching the gospel itself. The danger, of course, is that we'll have stopped preaching the gospel without even knowing it.
Preaching Christ
So what's the alternative? Ferguson writes:
The gospel is Christ "clothed with his gospel." This, to use an Augustinian term, is totus Christus, the whole Christ, the person in whom incarnation has been accomplished and in whom atonement, resurrection, ascension, and heavenly reign are now realized.
While we can distinguish Christ's person and his work in analytical theological categories, they are inseparable from each other. Since there is no "work of Christ" that takes place abstracted from, and in that sense outside of, his person, the blessings of his work cannot be appropriated apart from receiving Christ himself with all his benefits. What God has joined together, we must not put asunder.
Ferguson argues that Christ and his benefits are inseparable. When we separate Christ from his benefits, we elevate our experience of salvation, and tend to downplay emphasis on the person, work, and glory of Jesus himself.
The primary question we answer in our sermons should not we can offer the benefits of salvation, but how we can offer Christ himself. "The gospel offer is Christ himself in whom the blessings are found." And so our preaching should sound something like this:
There is a living Savior who, because he died and rose again, is sufficient to save you and indeed each and every person who comes to him in faith. There is fullness of grace in Christ crucified. And you, too, may find salvation in his name.
After all, writes Ferguson, "Christ himself is the gospel."
A Needed Corrective
I needed this corrective. I suspect that some of us think we're preaching the gospel when we're preaching its benefits. Our preaching can refer to these benefits, but then we must remember that all these benefits are found in Jesus. We must preach Jesus. He must be the theme and hope of our messages.
I'm reminded of this quote by Spurgeon:
Of all I would wish to say this is the sum; my brethren, PREACH CHRIST, always and evermore. He is the whole gospel. His person, offices, and work must be our great, all-comprehending theme. The world needs to be told of its Savior, and of the way to reach him…Blessed is the ministry of which CHRIST IS ALL.
Preach Christ, not just his benefits.