Charlie Brown Christmas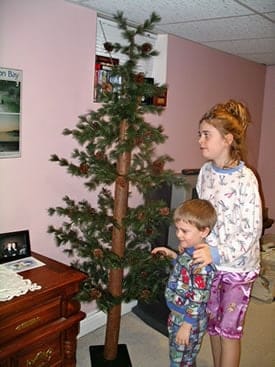 This is part of marriage that they don't tell you about. I grew up with trees about as fake as you can get. Every year, we would drag the box from the basement, spend an hour assembling the sucker, and then pretend for the next month that the tree looked real. It worked for all of us. Charlene entered our marriage with a love for real trees. I was ready for a change, and after all, I was a newlywed. There aren't a lot of places around here where you can go and cut down a tree. So, for the past 13 years, we've gone out in lousy weather to some store's yard, and I've held up bundled trees while Charlene searches for the perfect tree. It's always a crapshoot, since how much can you tell from a tree that's bundled? This brings out the worst in our personality styles. I grab the first tree I can find and make a run for it. Charlene spends three hours examining every single tree numerous times before she's ready to make a selection. It's a wonder we've stayed together this long. I make it sound so bad. There have been some lighter moments. One year I came home and saw Charlene dancing with an eight foot tree through the front window. She was trying to put it in the stand by herself. It's an image I will never forget. This year, we're taking a break from the real pine smell and all the needles, and we're using a fake tree. Not every year, just every few years. I bought a pre-lit tree from a company whose motto is "Good enough to fool Santa." Santa must be blind, because that tree wasn't fooling anyone. It's going back, and so we figured that if you're going to go fake, you may as well really go fake. So here is our new, beautiful Charlie Brown Christmas tree: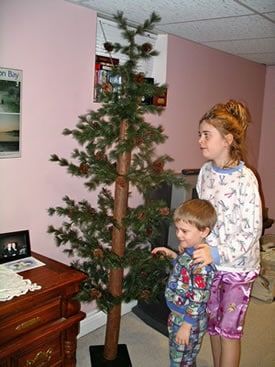 It has a certain kitschy charm. Merry Christmas, Charlie Brown.