The Resurrection of the Body and the Life Everlasting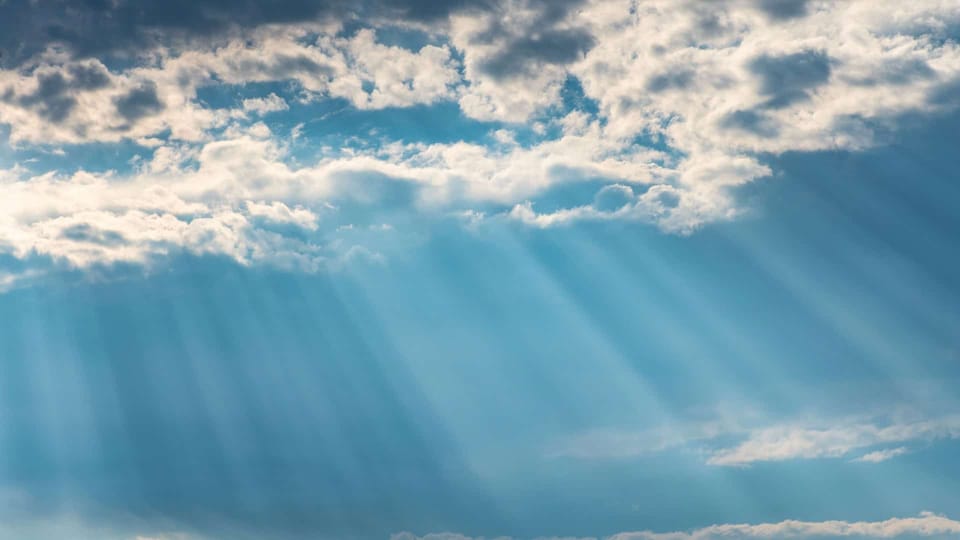 Big Idea: We believe in the resurrection of the body and life everlasting.
---
Earlier this year I attended the funeral of two friends who died within a week of each other. As you can imagine, it was a sad time to see two relatively young friends die.
I was surprised by their deaths, especially one of them who died without any warning. But what surprised me most was what wasn't said at their funerals. Their funerals took place at churches that would believe everything that we believe, but they left out possibly the most important truth that you could state at a funeral:
I believe in the resurrection of the body
and the life everlasting. Amen.
We're concluding our series on the Apostle's Creed today. The Apostle's Creed is one of the earliest summaries of the Christian faith. And today we get to the final two lines of the creed, ones that make all the difference in the world, but also ones that I find ignored even when we need them the most.
Here's why we need these truths. I'll give you the short version and the long version. Here's the short version.
This is great Twitter account. I think everyone should follow it. Every day it tweets out the same important reminder: you will die someday. Harsh but true, and it's important to be reminded of this regularly.
Here's the longer version from Mike Wittmer's book The Last Enemy:
You are going to die. Take a moment to let that sink in. You are going to die. One morning the sun will rise and you won't see it. Birds will greet the dawn and you won't hear them. Friends and family will gather to celebrate your life, and after you're buried they'll return to the church for ham and scalloped potatoes. Soon your job and favorite chair and spot on the team will be filled by someone else. The rest of the world may pause to remember— it will give you a moment of silence if you were rich or well known— but then it will carry on as it did before you arrived. "There is no remembrance of men of old," observed Solomon, "and even those who are yet to come will not be remembered by those who follow" (Ecclesiastes 1: 11).

You are going to die. What a crushing, desperate thought. But unless you swallow hard and embrace it, you are not prepared to live.
If our Christianity doesn't include these words, "I believe in the resurrection of the body and the life everlasting," then we have nothing. I don't know why we have lost these truths when we need them most, but it's time to recover them!
We need these truths. If Christianity can't handle the accident site, the cancer ward, the funeral home, then it's not worth anything. "If death was no big deal, there would be no reason to be a Christian" (Wittmer).
So we need these truths. Here they are. There are two of them.
I Believe in the Resurrection of the Body
One of the simplest verses that explains the resurrection is Philippians 3:20-21:
But our citizenship is in heaven, and from it we await a Savior, the Lord Jesus Christ, who will transform our lowly body to be like his glorious body, by the power that enables him even to subject all things to himself.
Let's follow the logic.
First: death is a problem. This is the overall teaching of the Bible. This may be where we go wrong, because I keep hearing people say that death is natural, that death is simply part of life, that it's no problem at all. Tell that to the parent holding the body of their baby in their arms, or to anyone who's had to deal with the loss of a loved one — or even stared death in the face themselves. Death is the fundamental human problem.
But second: here's where Christianity stands apart. It says that Jesus conquered death. Nobody expected it, but on the third day Jesus rose from the dead.
For I delivered to you as of first importance what I also received: that Christ died for our sins in accordance with the Scriptures, that he was buried, that he was raised on the third day in accordance with the Scriptures… (1 Corinthians 15:3–4)
Here's what happened that day.
This is the moment in which Jesus has made good on His promise. Gone is the tortured carpenter. Gone is the heavy, lumbering, splinter-laden cross, the nails still dripping. It's been snapped like a toothpick. Reduced to splinters. It doesn't hold Him anymore. Neither does the grave. This right here, this is Jesus, the firstborn among the dead, the victorious conquering, undefeated King—who holds the keys to death and hades—and this is the moment in which God the Father has officially and once and forever transferred you and me from the kingdom of darkness to the kingdom of the Son of His love…

Satan's defeat was absolute. The victory complete. Eternal. Irrevocable.

This is that moment.

As Jesus walks out…He exits through the prison of cells—the Alcatraz of hell—where His people have been held in bondage. Slavery. Every form of addiction. Every sin. And as He walks by, every lock clicks, shackles fall off, gates of bronze are ripped off their hinges, bars of iron cut in two.Prisoners, long held captive, begin screaming at the top of their lungs. (What If It's True?)
Jesus defeated death and Satan. He was given a resurrected body, and he now lives eternally in heaven.
Third piece of the puzzle: Jesus "will transform our lowly body to be like his glorious body, by the power that enables him even to subject all things to himself." Your body will be changed. "In raising believers, God completes their redemption by the gift not of their old bodies somehow patched up, but of new bodies fit for new men" (J.I. Packer). It will be linked to your existing body, but it will be made completely new.
You've probably heard of St. Francis of Assisi. He would call his body "brother ass." Your current body is like a donkey! "It is a useful, sturdy, lazy, obstinate, patient, lovable and infuriating beast; deserving now the stick and now a carrot; both pathetically and absurdly beautiful. So the body." (C.S. Lewis)
But not on that day. On that day your body will no longer be brother ass. "My new body will feel and behave like a Rolls-Royce" (Packer). Your future is a physical one. Your body matters! But your body then will be much better than it is right now. It will be like Jesus' glorious body — free from everything that's wrong with your body now.
At one of the funerals I attended this year, the pastor said that the person who died was now in their eternal state. Nothing could be farther from the truth. Our dead and buried or cremated bodies are not in their final state. We will only be in our final state when our bodies are resurrected and even better than they are now.
That has been the consistent teaching of Christianity for the past two thousand years — but somehow we've lost sight of it. Your future is physical. Your body will be resurrected. That is worth getting excited about!
But that's not all. There's the next and final part of the Apostle's Creed:
I Believe in the Life Everlasting
I once gave a talk about what eternity will be like to a group of school kids. It was awful. I had no idea. I don't think that's unusual. Our concept of what the life everlasting will be like is pretty minimal, which means that it's not something that we cling to as our hope.
Things have changed. I could go on a long time now about the life everlasting. Revelation explains:
Then I saw a new heaven and a new earth, for the first heaven and the first earth had passed away, and the sea was no more. And I saw the holy city, new Jerusalem, coming down out of heaven from God, prepared as a bride adorned for her husband. And I heard a loud voice from the throne saying, "Behold, the dwelling place of God is with man. He will dwell with them, and they will be his people, and God himself will be with them as their God. He will wipe away every tear from their eyes, and death shall be no more, neither shall there be mourning, nor crying, nor pain anymore, for the former things have passed away." (Revelation 21:1-4)

They will see his face, and his name will be on their foreheads. And night will be no more. They will need no light of lamp or sun, for the Lord God will be their light, and they will reign forever and ever. (Revelation 22:4-5)
Here's what we learn.
First: our future is not in heaven but on a new earth. We don't go to heaven; heaven comes to earth. "We don't hope merely for the day when we go to live with God, but ultimately for that final day when God comes to live with us" (Mike Wittmer). Don't think about your future in heaven. Your future is on earth.
Second: our future is in a new Eden, but it's even better. Adam and Eve lived in the original Eden. It was amazing, but then they sinned and were cast out. Our future is in a new Eden, but it's even better. God himself will live there. He will remove all the sources of sorrow. Read Isaiah 65 and 66 for an idea of what it will be like. You think the Garden of Eden was good? This will be even better.
Third: the best part is that God will be there. "The Lord God will be their light, and they will reign forever and ever." The best part will not be our new bodies, or the end of death, the obliteration of sorrow, or our reunion with loved ones who have died. The best part will be that God is there. We will see God.
John saved the best thing about the Edenic temple-city for last. It is better than walls of jasper whose foundations are twelve precious stones, better than gates of pearl and a street of gold, better than a river of the water of life and a tree of life whose leaves heal the nations. It is better than all that. It is the best of all. What makes all the rest meaningful? The presence of God. (James Hamilton)
For the first time in our lives we will know by experience, with our eyes, God's presence. For the first time we will love God with all our hearth and soul and mind and strength. For the first time we'll see the One we were made for, and we will be satisfied. The glory of God will permeate all of creation.
What's interesting about all of this is how often the Bible says we'll be doing things that we do now. "We'll eat, drink, work, worship, learn, travel, and experience many of the things we do now … What will be gone is not Earth and our bodies, but sin and death and the Curse!" (Randy Alcorn).
"I believe in the resurrection of the body and the life everlasting."
Because you will die, you need this hope. We may not think we need this hope now when we're relatively healthy. But remember: one day you will die. Christianity prepares you for this day and gives you hope even when you face your greatest enemy, which is death.
And we get to live in that reality now. All of this is available to anyone who wants it, to anyone who receives the gift of eternal life that Jesus came to give. We receive it with the empty hands of faith, giving him nothing but our sins and receiving from him eternal life.
Please stand with me and let's repeat the Apostle's Creed — our creed — together.
I believe in God the Father, Almighty, Maker of heaven and earth
And in Jesus Christ, his only begotten Son, our Lord
Who was conceived by the Holy Ghost, born of the Virgin Mary
Suffered under Pontius Pilate; was crucified, dead and buried; He descended into hell
The third day he rose again from the dead
He ascended into heaven, and sits at the right hand of God the Father Almighty
From thence he shall come to judge the quick and the dead
I believe in the Holy Ghost
I believe a holy catholic church; the communion of saints
The forgiveness of sins
The resurrection of the body
And the life everlasting. Amen.