Missiology Before Ecclesiology? Not so Fast!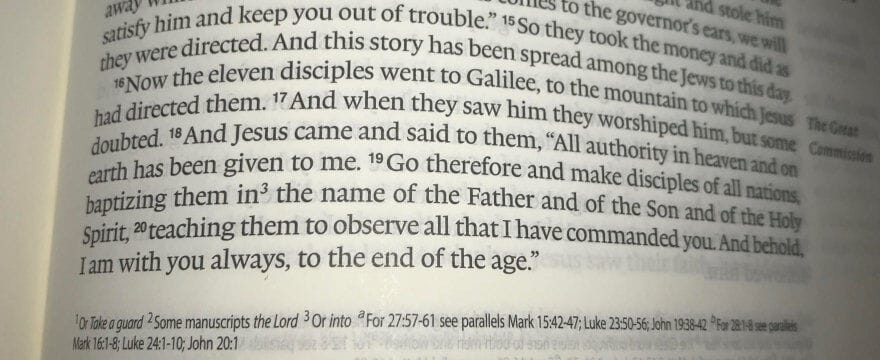 It's become fashionable to say that we need to put our missiology (the mandate, mission, and message of the church) before our ecclesiology (our theology and practice of the church), and that Christology comes before both. In The Shaping of Things to Come, Alan Hirsch and Michael Frost write:
Our Christology informs our missiology, which in turn determines our ecclesiology. If we get this the wrong way around and allow our notions of the church to qualify our sense of purpose and mission, we can never be disciples of Jesus, and we will never be an authentic missional church. Churches that have got this basic formula wrong never really engage in mission and so lose touch with Jesus.
I've heard this argument repeated a number of times.
It's well meaning, but I think it's wrong. We can't afford to put our missiology before ecclesiology for three important reasons.
We Need Missiology and Ecclesiology
We can't choose between missiology and ecclesiology. One doesn't come from the other, nor is one more important than the other. Ed Stetzer and David Putman argue rightly that Christology, missiology, and ecclesiology intersect:
…we have the intersection of who Jesus is and what has he sent us to do (Christology); the forms and strategies we use to most effectively expand the kingdom where we are sent (Missiology); and the expression of a New Testament church that is most appropriate in this context (Ecclesiology). All of these flow from and must be based on Scripture—and Scripture has much to say on each topic. For us to think we can make up new paradigms without consulting Scripture would be odd indeed.
Christology, missiology, and ecclesiology inform each other. We don't need to put one before the other; we need a recovery of all three.
Ecclesiology Is Important
If I were to charge western Christianity with a fault, it would be that our ecclesiology is too weak. We don't need to deemphasize the church; we need to understand it better, and allow that to inform our practices, including our mission.
Bad ecclesiology (like all bad theology) leads to bad results. The North American church is suffering from the effects of bad theology. It's easy to be driven by consumerism and business practices rather than what Scripture commands about how we function as a church.
What Nathan Knight writes to church planters is true for all of us:
Ecclesiology can't be assumed nor should it be considered a distraction to the church planter's "mission." It also can't be a kind of add-on that you insert here and there as you have need. Instead, ecclesiology should inform, instruct, and even excite the mission of planting churches to the glory of God.
The church matters for mission. For the sake of the mission, we need to recover a robust understanding of who the church is and what it's supposed to do.
Good Ecclesiology Is Missional
In the end, you can't have effective mission without the church. I love what Lesslie Newbigin wrote:
I have come to feel that the primary reality of which we have to take account in seeking for a Christian impact on public life is the Christian congregation. How is it possible that the gospel should be credible, that people should come to believe that the power which has the last word in human affairs is represented by a man hanging on a cross?
I am suggesting that the only answer, the only hermeneutic of the gospel, is a congregation of men and women who believe it and live by it. I am, of course, not denying the importance of the many activities by which we seek to challenge public life with the gospel– evangelistic campaigns, distribution of Bibles and Christian literature, conferences, and even books such as this one.
But I am saying that these are all secondary, and that they have power to accomplish their purpose only as they are rooted in and lead back to a believing community.
You can't have good missiology without the church. The church is essential for mission. It is the best hermeneutic of the gospel.
You'll probably hear someone say that missiology comes before ecclesiology. Don't believe it. A false antithesis is nobody's friend. For God's sake, let's recover both. Missiology and ecclesiology need each other.
Update: Michael Frost responds.